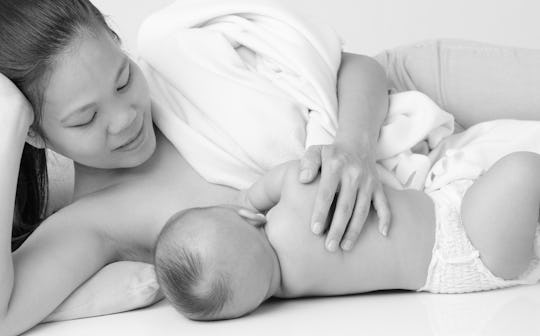 szeyuen/Fotolia
How Breastfeeding Affects Your Nipples — 3 Things To Keep In Mind
One of the major misconceptions about breastfeeding is that it will turn your breasts into huge, deflated boobs, reminiscent of the Macy's Thanksgiving Day Parade floats when all the air has been let out and that your nipples are basically long stretches of taffy, even after your kid has weaned. It sounds ridiculous, because it is, and knowing how breastfeeding affects your nipples can save you a lot of panicking over your breasts and how they look and feel.
Of course breastfeeding is going to affect your nipples in some way — you've never had a baby using them for nourishment before. But that doesn't mean your nipples are going to be ruined or stretched out to seven miles long. According to Parents, your breasts and nipples have been going through some changes since pregnancy, including your nipples and areolas becoming darker. But once you're breastfeeding, any changes to your nipple pretty much rely on how your breastfeeding journey is going. If you're having a difficult time, you might have more cracked or bleeding nipples than a mom who's baby latched on correctly. If you have to pump often, you might experience swollen, puffy nipples after removing the milk from your breast. And if you have a baby who clamps down on your nipple? You might have an indention or redness to it.
But these three ways breastfeeding affects your nipples can happen for a variety of reasons, so keep them in mind, but remember, your nipples are going to be OK. If you feel like you're having some serious issues with how breastfeeding affects your nipples, reach out to a lactation consultant for help in solving the problem.