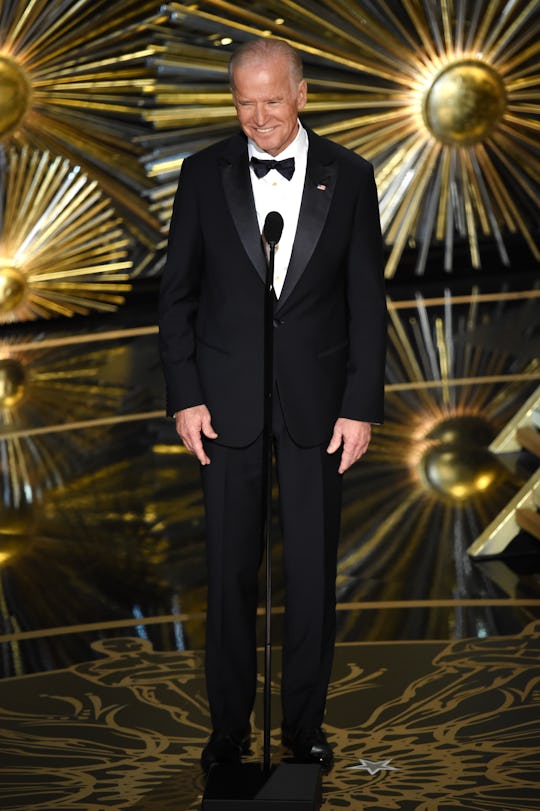 Kevin Winter/Getty Images Entertainment/Getty Images
How Can You Take Joe Biden's Pledge At ItsOnUs.org? All It Takes Is A Click
During arguably the most powerful, poignant moment of the 88th Academy Awards, Lady Gaga gave a stunning performance of "Til It Happens To You," a ballad dedicated to sexual assault survivors and their stories, written for The Hunting Ground, a documentary that deals with campus rape in the United States. Before her performance — during which sexual assault survivors, both men and women, took to the stage to stand in unison together — Vice President Joe Biden introduced Gaga and urged viewers to take the pledge to step up and end sexual assault. His call to action was heard far and wide (the site went down right after the Oscars segment aired), so let's spread it even more: Here's how you can take Joe Biden's pledge at ItsOnUs.org.
To take the pledge to "recognize that non-consensual sex is sexual assault," to "identify situations in which sexual assault may occur," to "intervene in situations where consent has not or cannot be given," and to "create an environment in which sexual assault is unacceptable and survivors are supported," all you simply have to do is scroll and click. When on the site, you scroll down until you see a place to put your name, your email address, your zip code, and your school (if you're in one), and then you simply click on "take the pledge." You can also turn your social media profile pictures into badges so that others know you took the pledge, and can take the pledge as well.
The most important part of Joe Biden's pledge was the public urging of men to join the fight to end sexual assault. If we are to see the end of sexual violence one day — the kind that leaves one in three women experiencing rape and/or sexual assault in their lifetime — we need everyone to be involved: men, women, old, and young, of all religious beliefs, and of every race. We all need to take the pledge to intervene when necessary, create safe and consensual environments, and hold one another accountable.
There wasn't a dry eye in the Oscars house or in homes around the country during this part of the broadcast. It's clear that viewers across the country (and perhaps the world) were moved as well, essentially crashing the ItsOnUs.org site by logging in, scrolling down, and taking the pledge. While it's no secret that the Academy Awards has its fair share of problems to fix (diversity, sexism, etc.), the Oscars did something amazing Sunday night: They spoke openly, prophetically, and unapologetically about sexual assault, sexual assault survivors, and our need as a country to come together, take the pledge, and stop this horrific problem.
Thank you, Biden, Gaga and the Academy Awards. From one sexual survivor, thank you.