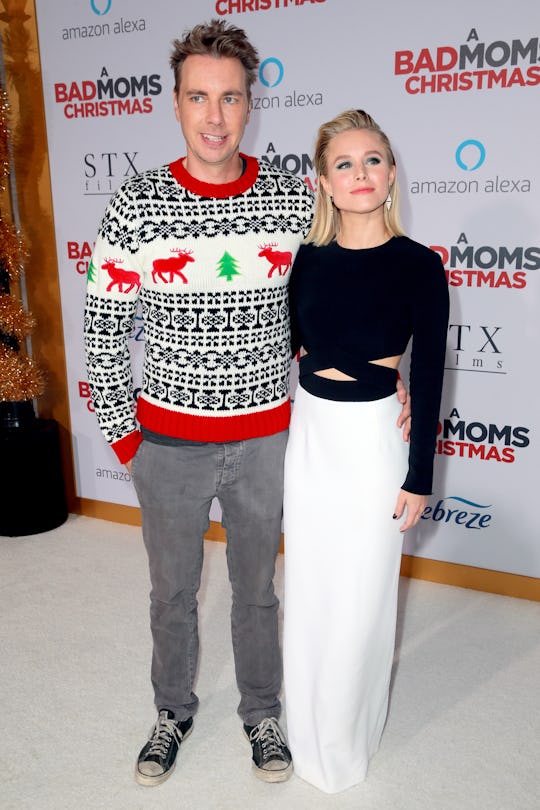 Rich Fury/Getty Images Entertainment/Getty Images
Dax Shepard Explains Why He & Kristen Bell Refuse To Lie To Their Kids About Santa
Every holiday season, parents are faced with how to teach their kids about Santa or how to approach the subject when their kids ask about the jolly character. And as it turns out, even celebrity parents, like Kristen Bell and Dax Shepard, are dealing with just that. But the way that Shepard and Bell teach their kids about Santa might not for every parent. However, when you hear the reasoning behind their approach, it really doesn't seem that outlandish.
Shepard and Bell are the parents to two young daughters, 5-year-old Lincoln and 3-year-old Delta, according to People. And at that age, kids are naturally curious, especially around Christmas. It seems as if they want to know everything about Santa and the festive holiday. And parents are constantly faced with questions like: Where does Santa live? How does Santa deliver toys to everyone in one night? How does Santa enter our home through the chimney?
As you'd expect, Shepard has already started getting these kinds of questions from his daughters, which is why he and his wife have decided to tell their kids the truth about Santa. As Shepard told Us Weekly in a recent interview, his kids already know that Santa isn't real, which he admits is "very controversial."
As Shepard explained to Us Weekly:
I have a fundamental rule that I will never lie to them, which is challenging in our times. Our 5-year-old started asking questions like "Well this doesn't make sense and that doesn't make sense." I'm like, "You know what? This is a fun thing we pretend while it's Christmas."
It seems that Shepard and Bell's approach to the whole Santa thing works for them and their approach to parenting.
But don't go feeling sorry for Lincoln and Delta; it's not like they're missing out on the fun of Santa or the magic of the holidays. Shepard explained in the same interview with Us Weekly that his kids still enjoy Santa-related things, they just know that he won't be coming to their house. "They love watching movies about Santa, they love talking about Santa. They don't think he exists, but they're super happy and everything's fine," he told the publication.
This isn't the first time that the couple has addressed Santa in their household. Last year, Bell told TODAY that after her daughters weren't sold on Santa, she and Shepard vowed to tell their kids the truth about him. "We have to tell our kid that one night a year, breaking and entering is OK and that a dude in a jumpsuit is going to come down the chimney and is going to rifle through our stuff but it's OK because he's going to leave us gifts? That's a crazy story to tell your child," Bell told TODAY.
Not all parents will agree with their way, of course. How to tell your kids about Santa is debatable. One psychologist, for instance, believes that teaching your kids that Santa isn't real right away makes Christmas even more fun, according to Fatherly. But others believe that believing in Santa is a fundamental part to Christmas and keeping the magic of the holiday alive, as explained in Good Housekeeping.
It's OK to disagree with Bell and Shepard's approach to Santa. After all, Bell told TODAY last year that she doesn't want to be the go-to celebrity for parenting advice, especially since every family is different. "I hesitate whenever I give advice on parenting because every kid is different and I'm a firm believer in accepting all advice and figuring out what works for my kids," Bell told TODAY.
Although their kids might know the truth about Santa, it doesn't take away from how special Christmas is to them. The family makes their own Christmas decorations every year, wear matching outfits on Christmas, and gives back to families in need.
With traditions as strong as these, it's obvious that the holidays are a special and magical time in the Shepard-Bell household — with or without Santa.
This first-time mom wants to have a home birth, but is she ready? Watch how a doula supports a military mom who's determined to have a home birth in Episode One of Romper's Doula Diaries, Season Two, below. Visit Bustle Digital Group's YouTube page for the next three episodes, launching Mondays in December.