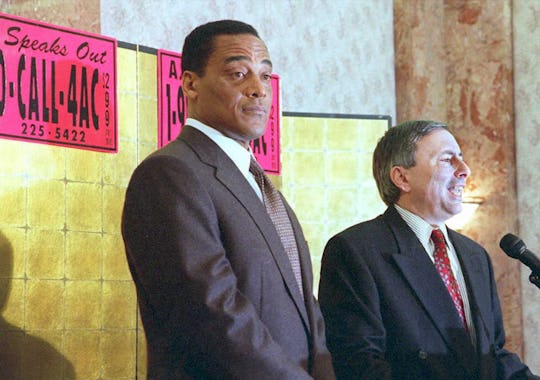 John EMMONS/AFP/Getty Images
How Did A.C. Cowlings & O.J. Simpson Meet? The Two Maintained A Strong Friendship Despite Their Troubles
The country was introduced to FX's new drama The People v. O.J. Simpson: American Crime Story on Tuesday, and the show started off by taking a wide look at the topics of race and criminal justice. Viewers were also introduced to characters surrounding Simpson and his trial for the alleged murders of Nicole Brown Simpson and Ronald Goldman. One of these characters was A.C. Cowlings, also known as Al. But how did Cowlings and Simpson first meet?
Casual viewers are still probably unaware of the details surrounding Cowling's role in the 1995 events. In fact, viewers might be more familiar with Cowling's white Ford Bronco than they are with the man himself. Yes, Cowlings owned the now-infamous vehicle that spirited Simpson away from Robert Kardashian's home the night a warrant was issued for Simpson's arrest — the same night he allegedly threatened t0 commit suicide in Kim Kardashian's bedroom (Kardashian was a child at the time).
But how did Simpson know Cowlings in the first place, and who in the world was he? Well, it comes down to the pairs' love of sports. Simpson and Cowlings were teammates at all levels of their football careers: Galileo High School, San Francisco City College, USC, the Buffalo Bills, and the San Francisco 49ers. They were close friends, and when Simpson called, Cowlings reportedly came to the rescue — and so began the slow-speed chase televised on live TV that ended at Simpson's mansion, where he finally surrendered to the police.
Cowlings was charged with a felony for allegedly aiding a fugitive, but the charge was ultimately reversed due to a lack of evidence. Many who followed the case might remember Cowlings because of the following memorable comment shouted from the window of his 1993 Ford Bronco at the police:
"My name is A.C. You know who I am, God damn it!"
According to Fox News, when the station checked in with the friends and family of Simpson to see how everyone was doing in 2012, almost two decades after the trial, Cowlings was reportedly working as a handbag sales rep in Los Angeles. Simpson's boyhood friend was also facing bankruptcy, when journalists checked in with him just a decade after his alleged joy ride with Simpson. In the new American Crime Story series, Cowlings is played by Malcolm-Jamal Warner, who had this to say to Huffington Post Black Voices about recreating the famous Ford Bronco police chase:
"We shut down the 77 freeway for a weekend and basically recreated the scene. It took two days to do it. And even though I knew we were shooting a TV show, it's still something that's very surreal when you look in the rear view mirror and you got about 20 cop cars behind you."
The launch of America Crime Story brings a trial back to life that captivated America in 1995. Now, over 20 years later, the country is reliving the events.
If ratings are any indicator, the series came at just the right time. The show premiered to 5.1 million total viewers and a 2.0 demo rating, making it FX's highest-rated drama debut since The Shield. Those numbers could in part be attributed to the sheer number of A-listers on the cast: John Travolta as Robert Shapiro, Cuba Gooding Jr. as Simpson, and David Schwimmer (aka Ross from Friends) as Robert Kardashian, Simpson's self-professed best friend.
Viewers ended this week's show on a high note with the high-speed chase they were all looking for just around the corner in episode two. Now we'll just have to wait and see if the small screen version lives up to the real thing.