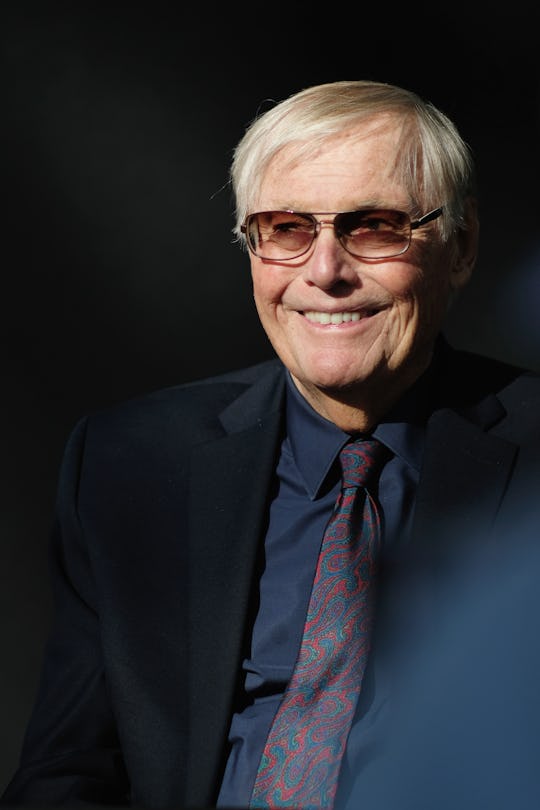 Mike Coppola/Getty Images Entertainment/Getty Images
'Batman' Actor Adam West Has Died At 88
Adam West was the original Caped Crusader. The first Batman most people knew, and arguably the most iconic. His self-deprecating sense of humor kept him active in the entertainment industry through decades... and now he's gone. Adam West died at the age of 88 on Friday night, and fans will miss him.
According to a statement released by a family spokesperson, West died peacefully at home surrounded by his family. He had been battling leukemia for some time. He is survived by wife Marcelle, his six children, five grandchildren, and two great-grandchildren. His family released a statement honoring their father in the hours after his death, according to The Hollywood Reporter, saying:
Our dad always saw himself as The Bright Knight and aspired to make a positive impact on his fans' lives. He was and always will be our hero.
West starred in the original version of Batman on ABC, starting in 1966. He made an indelible mark on the pop culture scene with his flagrantly campy portrayal of the Caped Crusader, far different from the "Dark Knight" more recognizable in the last 30 years. Before Batman, West had major roles in films like The Young Philadelphians (1959) and Robinson Crusoe on Mars (1964). But it was his role as the dancing, groovy, shark-punching Batman that will stay with most fans.
West was born William West Anderson in September 1928, the second of two sons to Otto and Audrey. He was raised in Walla Walla Washington. He was raised on a ranch, and attended Whitman College as a literature major before being drafted into the United States Army. His deep voice and wry sense of delivery earned him a gig as the announcer for American Forces Network, an internal television service for the military. He went on to star in commercials, one of which caught the eye of Batman producer William Dozier. And the rest, as they say, is history.
After Batman came to an end, the actor struggled for some time to regain his footing in Hollywood. After turning down the role of James Bond in Diamonds Are Forever (because he believed the role should go to a British actor), West did some daredevil stunt work, according to the 2013 documentary Starring Adam West, and supported his family with celebrity appearances. In 1996 he wrote an autobiography, Back To The Batcave, and eventually found a resurgence in work voicing the Caped Crusader in various cartoons.
Adam West spent the last part of his career playing alternate versions of himself to the delight of kids and grown-up fans everywhere. He played Catman on Fairly Oddparents, and of course, his epic role as the Mayor of Quahog on Seth MacFarlane's Family Guy.
In a 2012 interview, West talked about the pivotal role that helped shape the latter part of his career:
I had done a pilot with Seth that he had written for me. It turned out we had the same kind of comic sensibilities and got along well. When Family Guy came around and Seth became brilliantly successful, he decided to call me and see what I was doing. He asked if I would like to come aboard as the mayor, and I thought it would be neat to do something sort of absurd and fun.
Therein laid the beauty of Adam West as an actor. Always willing to push the boundaries, to embrace the absurd, and to have a little fun.