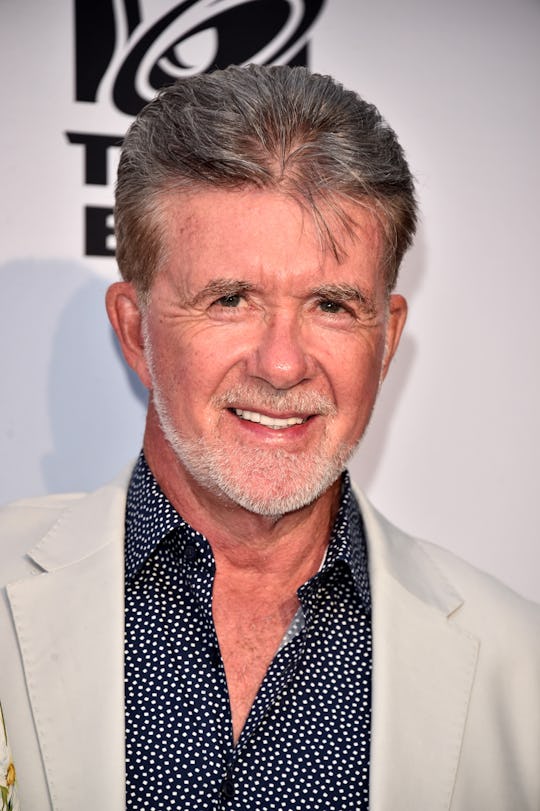 Alberto E. Rodriguez/Getty
How Did Alan Thicke Die? He Passed Away At The Age Of 69
Actor Alan Thicke, whom many may recognize from How I Met Your Mother but longtime fans remember from the beloved Growing Pains, has died. He was 69 years old. According to TMZ, Thicke reportedly died of a heart attack while playing hockey with his 19-year-old son, Carter.
Thicke was reportedly transferred to Providence St. Joseph's Medical Center and was pronounced dead on arrival. His publicist confirmed the tragic news of his death with ABC News. Romper reached out to Thicke's publicist for comment and confirmation of the actor's death and is awaiting a response.
Thicke was seen most recently in episodes of Netflix's Fuller House and is survived by three sons: Carter, Brennan, and musician Robin Thicke, as well as his wife Tanya Callau, who co-starred with him in the Canadian mockumentary, Unusually Thicke. He was previously married to Gloria Loring and Gina Tolleson. The Canadian actor was perhaps best known for his role as Jason Seaver on the ABC sitcom Growing Pains, but was also a well-respected musical composer. Thicke wrote several popular television theme songs for shows like Diff'rent Strokes, Charles In Charge, and Facts Of Life. His self-deprecating sense of humor served him well as a game show host in the 90s, when he hosted programs like Pictionary and Three's A Crowd.
Beyond being multi-talented, Thicke managed to maintain a long, healthy career with his good natured ability to laugh at himself. Not only did that quality land him memorable cameos on shows like Fuller House and Scream Queens, it earned him the respect of his peers, many of whom have already been taking to social media to mourn his unexpected loss.
Of course, it won't just be celebrities who knew Alan Thicke who will be feeling his loss; For many people, Thicke represented someone special. An ideal father figure to emulate and respect, as well as a real-life father to his own beloved sons.
Thicke wrote two books about fatherhood after Growing Pains ended; How Men Have Babies and How to Raise Kids Who Won't Hate You, to share his experiences using humor as a tool to raise his three sons. Thicke spoke to The Huffington Post in 2014 about parenting, and he had some sweet words to say about his close relationship with his sons and how often he spends time with them:
Every day, every, single day. It never goes away and I like it that way because it's mostly good news. And yes, my relationship with my sons is very close. I'm in touch with or engaged with at least one of them every single day. Worst case scenario it's every third day for any one of those kids.If you've been involved with them as kids, you'll be involved with them until the day you die. In fact the stakes just get higher. Instead of deciding what movie you are going to see or how late they can stay out, as adults now you're dealing with their careers, their health, their own children, their marriages, their finances — everything about their lives.
What a terrible loss it must be for them.