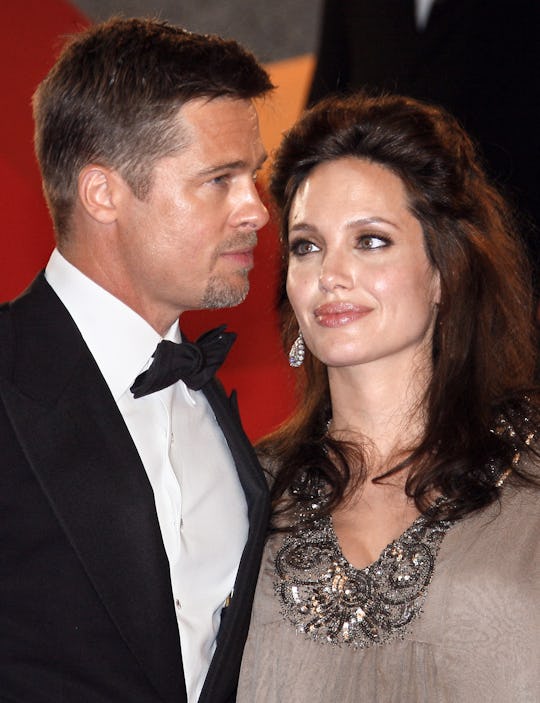 FRANCOIS GUILLOT/AFP/Getty Images
How Did Angelina Jolie Tell Brad Pitt She Wanted A Divorce? He's Reportedly 'Wrecked'
People have been having a lot of feelings about the news that Angelina Jolie is filing for divorce from Brad Pitt after nearly 12 years together. I don't know when they became the only celebrity couple to make our hearts go pitter-patter, but apparently that is how many people saw them. As the Ultimate Perfect Couple. I sort of get it; what with the millions of dollars and six children, homes in L.A. and France, amazing teeth... they seemed solid. Solid, that is, right up until the day Jolie told Pitt she wanted a divorce. And if People magazine is to be believed, Pitt is feeling just as wrecked as the rest of the internet. Possibly even more so on account of it's his actual life.
According to People, Jolie waited until she was ready to file for divorce to break the news to Pitt. A source close to the 41-year-old Jolie told People:
"She sat down, talked to Brad and offered to file [for divorce] together. She said, 'This is what I'd like to do.' She explained everything. Angelina did what she felt she needed to do."
The actress filed for divorce last week and asked for physical custody of the couple's six children together. She cited "irreconcilable differences" as her reason for divorcing Pitt, and did not ask for either spousal or child support.
While a source close to Pitt told People that the 52-year-old actor was well aware the couple were having trouble (there have allegedly been arguments over their differing parenting styles, and Pitt's anger issues, although both sides have vehemently denied any third party involvement), Pitt was allegedly "wrecked" by Jolie's announcement and pleaded with her to wait.
"He was appealing to her to do this quietly – not to save the marriage but to consider the well-being of the children – and it was ignored," contends the Pitt source. "He is just wrecked by this."
The Pitt source also told the outlet:
"He was willing to do anything, change any habit, change any lifestyle, to do what had to be done to make this work. And by 'make this work,' that means doing what has to be done to make even a split one that is amicable and in the best interests of the children."
The same source also said that Pitt wants to share custody of the couple's six children (Maddox, 15, Pax, 13, Zahara, 11, Shiloh, 10, and twins Knox and Vivienne, who are eight-years-old). Pitt was reportedly involved in a physical altercation with one of his children (some sources claim that the couple's oldest son, Maddox, stepped in between his parents during a fight) on the family's private plane when it landed in Los Angeles recently, and there have been multiple reports that alcohol was involved.
Whatever your feelings about Brangelina... this divorce is going to suck lemons for those kids.