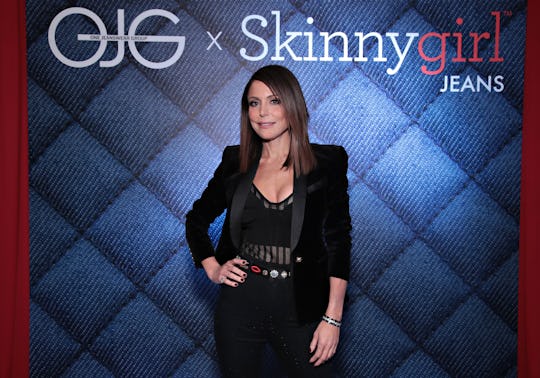 Cindy Ord/Getty Images Entertainment/Getty Images
Bethenny Frankel & Dennis Shields Knew Each Other Long Before 'RHONY'
It's a little difficult to keep track of Bethenny's on-again-off-again beau Dennis Shields, mostly because the pair have always been pretty reluctant to label their relationship. Fans who remember Shields from Luann's tirade about Bethenny dating married men may be wondering: how did Bethenny Frankel and Dennis Shields meet? If you recall, they go all the way back to high school.
Shields dated a friend of Bethenny's named Jill Schwartzberg when they were in high school, and Shields and Schwartzberg went on to get married in 1990, when they were 23 and 21 years old, respectively. (The affair was featured in The New York Times, naturally.) They separated 25 years later, and Bethenny maintained that while Shields stayed in her circle via mutual friends over the years, she and Schwartzberg had "spoken three times in 25 years." So it wasn't necessarily the shady stealing-her-friend's-husband scandal the press and some of her fellow castmates were making it out to be. But during the Season 8 reunion show, Bethenny confirmed that she and Shields were back on again after spending some time apart. Citing therapy as one of the reasons she was able to repair the relationship, Bethenny said:
I rightfully ended the relationship because of the circumstances surrounding my divorce and surrounding his divorce. And, you know, a person who has been married that many years needs to go through a certain cycle. I think that I needed him to make changes that I really didn't think that he would make, and I think that thinking the possibility of losing me really scared him straight, to be honest. And I'm a different person than I was then, because I'm just happier, I'm just freer.
She also revealed that she didn't necessarily want to be needed by anyone, and preferred a relationship that complemented her life, rather than completed it. "I only want to be with someone if they're totally additive," she said. "I don't need to fill a slot. I don't need to check a box. And Dennis is that person."
Sadly, the pair wound up splitting soon after the reunion show, as People reported in February of this year. A source close to the couple reportedly said that they're still close and continue to support each other as friends. "They had a 27-year friendship before they dated so they picked that up where they left off once they realized they didn't work as a couple," the source said. "Her daughter adores him and his family, and she comes first above all."
This breakup also came around the time Shields was embroiled in a bit of a scandal with his business, and, according to Page Six, Bethenny's friends encouraged her to distance herself from him to avoid the bad PR. But they'd still be spotted hanging out together. Page Six reported in February, "Frankel insiders insist she's single, but others said the pair have continued to be 'friends with benefits' and never really split."
We'll see a glimpse of Bethenny and Shields together on the fourth episode of Season 10, when she brings him to a dinner party hosted by Ramona. Luann accidentally steps in it by asking breezy questions about how the couple met — you know, two years after screaming that Bethenny was a hypocrite for dating married men at the 2016 reunion show. But Bethenny seizes the opportunity to ask for an apology for Shields, and Luann acquiesces... awkwardly. Fans will have to stay tuned to learn more about why things soured for the couple.
Check out Romper's new video series, Romper's Doula Diaries:
Watch full episodes of Romper's Doula Diaries on Facebook Watch.