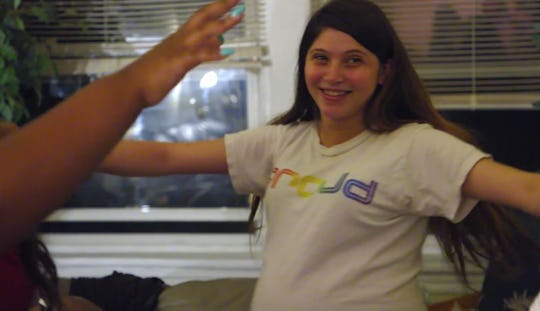 MTV
'Teen Mom: Young And Pregnant' Explores Brianna & Danae's Journey To Parenthood
In a rare win for transgender representation on reality TV, MTV's latest spinoff features a solid relationship between pregnant Brianna and her transgender boyfriend Danae. So, obviously everyone wants to know more about the couple. How did Brianna and Danae from Teen Mom: Young and Pregnant meet? It's not clear how or where their relationship officially started, but it is clear that they've been seeing each other, sometimes regularly and sometimes not, for the past three years.
In the first episode, 17-year-old Brianna has just finished high school and has been working full time. She explains that her boyfriend Danae, who is transgender, is not the biological father of her child, but that he has decided to step up and take on a fatherly role in her kid's life. Brianna meets up with a friend of hers to talk about things and what Brianna and her family are planning for the future with the baby and everything else. Brianna goes into a slight history about her relationship with Danae, but doesn't get into specifics about how they met or how they first got together. Suffice it to say that they clearly love each other now and are prepared to make some pretty serious commitments considering there's a baby on the way.
"We've been on and off for almost three years now," Brianna tells her friend. She explained that during one of the periods in which she and Danae were not together, she was coping by partying a lot. It was during one of these "party" phases that she got pregnant by another man. But regardless, Danae decided to step up for his girlfriend and her child and take on the role of a father for Brianna's baby. "Wow he truly does care about me if he's going to stay with me and care for a child that's not even his," she said.
Brianna also took this opportunity to gently correct her friend for using the wrong pronoun. Brianna's friend referred to Danae as "she," which Brianna swiftly brought up and told her friend firmly that it was "he and him" pronouns, not "she." I love how Brianna was able to kindly educate her friend on her boyfriend's gender and the correct pronouns that he uses. She even said that Danae sometimes has to correct her when she slips up. It's obviously not easy to be pregnant so young, but at least Brianna has a supportive boyfriend who obviously loves her.
In her casting video, Brianna also explained a little bit about how much she cares for Danae. "He is who he is and I fell in love with him for who he is," she said. "He's like, 'you're pregnant by someone else, but my love for you is strong enough to love this child.'" I honestly think I might cry because this is beautiful. Ah, to be young and in love. For his part, Danae talks about how happy he is to be able to teach the couple's little baby about the world. "Me being trans, I can show him that there's so much more to this world," he said.
This is the first time a transgender person has been shown on the show, and it's even rarer to see transgender people represented on television in committed relationships. I have a feeling that this series of Teen Mom franchise is going to be one of the most compelling and interesting shows yet, in large part because of this landmark relationship. I ship it.
Check out Romper's new video series, Romper's Doula Diaries:
Watch full episodes of Romper's Doula Diaries on Facebook Watch.