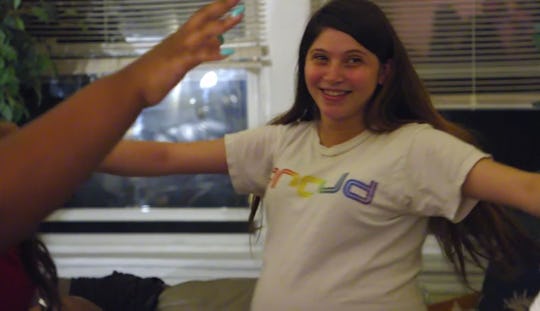 MTV
Why Brianna's Journey On 'Teen Mom: Young And Pregnant' Is An Important Story To Tell
It seems like forever ago that we met the young moms of 16 & Pregnant, some of whom later became the stars of the Teen Mom franchise. But since it's been almost 10 years since that particular spin-off premiered, MTV has a new docu-series, Teen Mom: Young and Pregnant, premiering on March 12 and featuring a handful of new moms, including Brianna Jaramillo, who is a 17-year-old new parent. So who is Brianna on Teen Mom: Young and Pregnant? The title suggests that the show is more about following young pregnant women rather than teenagers, but at 17, Brianna falls right below that line. Even so, she seems to have a compelling story for the first season of the new series.
A lot of times, the big narrative for these young women is the relationship with the baby's father and how that suffers or grows stronger once the baby is born. For Brianna, however, it looks like her big story will be the relationship with her transgender boyfriend, Danae. According to Brianna's MTV bio, she slept with a friend during a brief breakup period with Danae, which resulted in her unplanned pregnancy. When she and Danae got back together, however, he vowed to take care of both her and the baby and raise the baby with her as his own. Since they are so young, though, Brianna's mom is going to have a lot of questions for the teens and fans will be able to see her doubts play out as Brianna's due date draws closer.
In Brianna's casting video, she seems plenty sure of Danae and his promises to be there for her and her baby. "We're gonna be a really strong family," she says with confidence. "He [Danae] is who he is and I feel in love with him for who he is. He's like, 'you're pregnant by someone else, but my love for you is strong enough to love this child.'" They basically seem like Catelynn Lowell and Tyler Baltierra (of Teen Mom OG) 2.0 and I am here for it.
Teen Mom: Young and Pregnant will be the first series in the franchise to feature a storyline with a transgender partner at the forefront, so Brianna's story in particular will not only be interesting, but it will also be a refreshing take on young parenthood and relationships. In the trailer, while Brianna and Danae are discussing her unborn baby, he says, "Me being trans, I can show him that there's so much more to this world."
It's unclear yet if the new show's format is going to include a new batch of young moms each season or if the five moms cast for the first season are meant to carry the show into its second season as well, if the show gets picked up, of course. But for right now at least, Brianna's story is already unique and compelling enough to leave fans wanting and needing to know more.
There's not a lot of information out there about Brianna's life as far as social media goes, but as Starcasm reports, the young mom is from Wisconsin and gave birth to her son, Braeson, sometime around August 25 of last year, which was when he was due. She also may not be with Danae anymore now that filming of the first season has ended, but that has yet to be confirmed.
As with the shows that have come before it, this new installment and new take on the original series will follow these young moms on their journey from pregnancy through the beginning of motherhood, and from the trailer alone, it sounds like it's going to be an intense and emotional ride, as to be expected. MTV has never been shy about showing the realities and struggles of young parents, so I would expect nothing less from the newest Teen Mom show.
Like any reality show, it's natural to have some skepticism about the accuracy of it all, but it seems like Teen Mom: Young and Pregnant won't hold back from showing the emotional journey to motherhood that these new moms, ranging in age from 17-20, are about to embark on.
Check out Romper's new video series, Romper's Doula Diaries:
Watch full episodes of Romper's Doula Diaries on Facebook Watch.