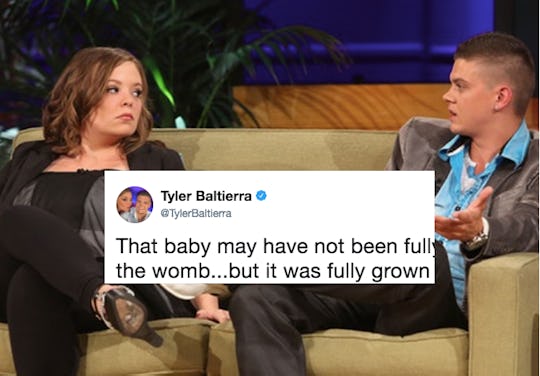 Jesse Grant/Getty Images Entertainment/Getty Images
Tyler Baltierra Shares A Powerful Message After Catelynn Reveals She Suffered A Miscarriage
The past few months have been incredibly traumatic for Teen Mom OG's Tyler and Catelynn Baltierra. Both of the young parents to daughter Nova have gone public with their ongoing struggle with depression, and Catelynn has gone into a treatment facility to treat her mental health issues. As if all of that wasn't tough enough for the young couple, they also recently revealed on an episode of Teen Mom OG that they had suffered a miscarriage. It's a terrible amount of pain for anyone to have to deal with, and Tyler Baltierra's message after Catelynn talked about her miscarriage acted as a powerful acknowledgement that they're both having a hard time trying to come to terms with their loss and it's OK to take this time to mourn.
Tyler and Catelynn have been through more than most couples their age, of course; the two were originally featured on the MTV reality series 16 & Pregnant back in 2009 when they were just 16 years old. Back then they were expecting their first baby, and the reality series documented their difficult decision to give up their daughter Carly for adoption. They stayed together and went on to get married, welcoming daughter Novalee Reign in 2015. And now it seems the two are dealing with another loss, as Catelynn revealed during Monday night's episode of Teen Mom OG.
During the episode, Catelynn (who has returned to treatment after initially checking out in late December) told a producer on Teen Mom OG that she had miscarried the baby she had previously announced on the show that she and Tyler were expecting, according to E! News:
I feel like maybe it just wasn't the right time. Thank God for kids and husbands. If they weren't around, I probably would have offed myself, seriously. I mean, I'm sure a lot of people can relate. Like, it's like I don't want to live another day like this, you know?
Catelynn credited Tyler for supporting her through the pain, but he has clearly been going through plenty of pain himself. He shared a message on Twitter on Monday about the baby they had lost.
Tyler has had his own fair share of difficulty dealing with mental health issues; he has previously admitted that he has been coping with depression since he was 11 years old, and tried to commit suicide around that time. Fortunately, Tyler seems proactive about staying on top of his mental health. He shared a video on Instagram in January on his way home from a visit to his therapist, saying:
I made it. I made it to my therapist appointment. Putting in a little self-care today, know what I mean? Sometimes you have to put yourself ahead of some other people sometimes in life. Doesn't mean you don't love 'em or care about 'em. It just means you love 'em enough to put yourself first so you can be the best 'you' you can be.
Fans are rallying behind the young father and applauding his courage for being so open about his battle with depression and his and Catelynn's devastating loss. As fans wrote on Twitter:
As both Tyler and Catelynn hopefully continue to heal from this recent loss, one thing seems fairly certain; they'll be open about their struggle. Because it's important for people to know they're not alone in their pain, that they're supported and loved. No matter how famous you are.
Check out Romper's new video series, Bearing The Motherload, where disagreeing parents from different sides of an issue sit down with a mediator and talk about how to support (and not judge) each other's parenting perspectives. New episodes air Mondays on Facebook.