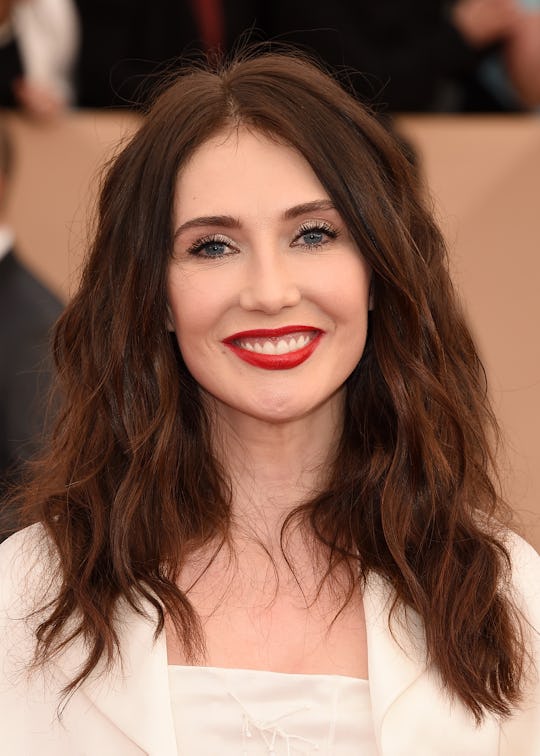 Jason Merritt/Getty Images Entertainment/Getty Images
How Did Carice Van Houten & Guy Pearce Meet? The Pair Are Expecting A Baby Together
It is rather strange for me to think of Melisandre, aka the Red Priestess (or Carice van Houten IRL), as a normal person. I mean, I have no problem with the rest of the Game of Thrones cast, but Melisandre? Even seeing a picture of her smiling without avarice is off putting. It turns out she is, indeed, a real human being and that she is in a relationship with Guy Pearce, the actor from Memento and L.A. Confidential. But how did Carice van Houten and Guy Pearce meet? I've never seen him walking around Westeros, I can tell you that. (Stannis Baratheon would have had his head.)
Well, they didn't meet at Dragonstone stronghold, I can tell you that much (I know, I have problems). It turns out the two were filming a movie together last year, a new Western called Brimstone that also stars Game of Thrones actor Kit Harrington (Jon Snow). Brimstone is due out later this year, and is the story of a vengeful reverend who wrongfully accuses a woman of a crime she never committed.
Sparks clearly flew, with Pearce referring to van Houten as being "very talented and very beautiful" in a blog post. The pair have been pretty quiet about their relationship, trying to maintain their privacy (which generally seems to backfire in these sort of relationships, but seems to be working in this case). The few pictures they've had taken are of the grainy, head down frowning variety. Which is such a shame because they are very attractive folks.
Alberto E. Rodriguez/Getty Images Entertainment/Getty Images
Pascal Le Segretain/Getty Images Entertainment/Getty Images
Come on guys, just admit you're dating and then you can go grocery shopping sans paparazzi. Besides, the cat is pretty much out of the bag now with this little piece of news:
Yup, that's right: Pearce and van Houten are expecting their first child together, so as van Houten suggests, let the shadowbaby jokes roll. (The "shadowbaby" to which she is referring is, of course, the shadow demon van Houten's character Melisandre birthed for Stannis Baratheon in order to kill Renly Baratheon in Game of Thrones. I feel fairly certain her baby won't be a shadowbaby, so it's all fine.)
Pearce, a veteran Australian character actor, was amicably divorced from his wife, psychologist Kate Mestitz, in early 2015 after 18 years of marriage. Pearce even had the good grace to show a little love for his wife on Twitter post-breakup.
Van Houten, a classically trained Dutch actress who professes to prefer Europe over Hollywood (because... well, yeah), has been in a few relationships with other Dutch actors over the last few decades.
The couple appear to prefer spending their time together quietly, being caught on trips to the grocery store or stops at cafes. Their baby will be the first for both of them. Well, sort of the first for her. If you don't count shadowbabies, I guess.