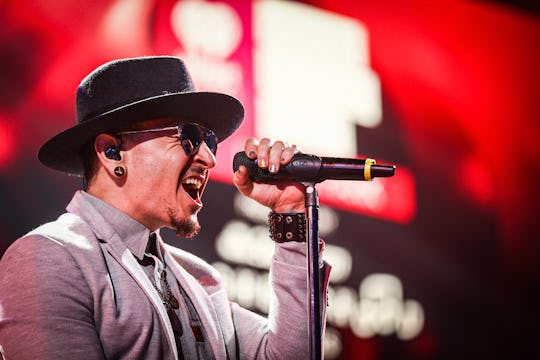 Rich Fury/Getty Images Entertainment/Getty Images
Linkin Park's Chester Bennington Found Dead
On Thursday morning, Linkin Park singer Chester Bennington was found dead, after allegedly dying by suicide. According to law enforcement officials, Bennington hung himself, after suffering from depression for years. He was 41 years old and is survived by six children with two wives.
Bennington has spoken publicly about his mental health and admitted that he had considered suicide before. The rock star also struggled with alcoholism in the past, saying in 2011 that he used to be a "full blown, raging alcoholic." He also alleged that his depression stemmed from being sexually abused by an older male when he was young.
In fact, Bennington said that his alcoholism inspired the Linkin Park superhit "Crawling" from 2001. He told Spin in 2009 the song is "about feeling like I had no control over myself in terms of drugs and alcohol. That feeling, being able to write about it, sing about it, that song, those words sold millions of records, I won a Grammy, I made a lot of money."
He added that he was happy to be sober. Bennington said:
It's not cool to be an alcoholic — it's not cool to go drink and be a dumbass. It's cool to be a part of recovery. This is just who I am, this is what I write about, what I do, and most of my work has been a reflection of what I've been going through in one way or another.
The Linkin Park singer was also very close to Soundgarden's Chris Cornell, who died by suicide in May. Today would have been Cornell's 53nd birthday. Bennington performed the song "Hallelujah," which Cornell himself once covered, at the Soundgarden singer's funeral.
Bennington wrote on social media following Cornell's death that he woke up with the Beatles' "Rocky Raccoon" in his head the morning of his friend's suicide and felt like it was his way of saying goodbye.
He added:
You have inspired me in many ways you could never have known. Your talent was pure and unrivaled. Your voice was joy and pain, anger and forgiveness, love and heartache all wrapped up into one. I suppose that's what we all are. You helped me understand that.
Bennington wrote to Cornell, "I can't imagine a world without you in it. I pray you find peace in the next life. I send my love to your wife and children, friends and family. Thank you for allowing me to be a part of your life."
Today is a sad day for both Cornell and Bennington's family, friends, and fans.