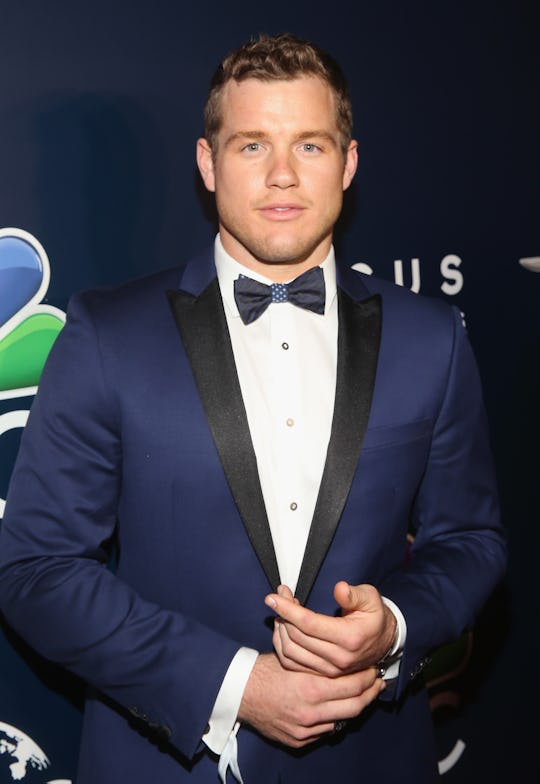 Jesse Grant/Getty Images Entertainment/Getty Images
How Colton & Tia Met Outside Of 'The Bachelorette' Isn't Surprising
In the era of social media and being able to reach celebrities in an immediate way, it's easier than ever for Bachelor Nation fans to contact contestants online and hope for the best. Surprisingly, one such fan is Colton Underwood. He may have contacted and then met up with Tia Booth from Arie Luyendyk Jr.'s season of The Bachelor before The Bachelorette premiered, and now, everyone is dying to know how Colton and Tia met outside of The Bachelorette. After he admitted on the show to Becca Kufrin that back in January 2018 he spent a weekend with Tia, Twitter went wild.
There were a number of questions about the how, why, and when of it all, and since only Colton and Tia can really answer those questions for certain, it's hard to figure out exactly how Tia and Colton met. There are, however, some telltale clues and rumors that point to a little bit of social media interaction, followed by meeting up. And since Colton isn't your average Bachelor fan, being a former pro NFL player in the spotlight and all, it likely wasn't that hard to convince Tia to meet up with him, if that is indeed how things went down.
According to Life & Style, Tia's friend and fellow former Bachelor contestant Raven Gates and her boyfriend, former Bachelorette contestant Adam Gottschalk appeared on a podcast in April to talk about Bachelor Nation. During the conversation, they revealed that Tia had been talking to someone from the upcoming season of The Bachelorette, so many are assuming that it had to have been Colton. They didn't give much else away in terms of how Tia came to start talking to Colton, but there's a good chance that he contacted her on social media and from there, the short-lived romance blossomed.
As Colton explained to Becca, he realized that the timing wasn't right and their relationship — if you can call it that — didn't go further than that weekend, but it's still kind of a big deal that he dated a friend of the current Bachelorette, who he's also trying to woo. Fans have also been quick to speculate that Colton and Tia met by Colton sliding into her DMs, as people so often tend to do these days, and I wouldn't put it past him since it was on social media that he first made his feelings toward Tia clear.
During Arie's season of The Bachelor, Colton tweeted about it regularly, commenting on the contestants themselves and yes, Arie, who really didn't stand a chance once word got out that he'd broken up with Becca in a pretty heartbreaking way. But some of Colton's tweets were about Tia specifically and even included some heart eye emojis and we all know that that means. So I totally wouldn't be surprised if they met from Colton contacting her after watching her on The Bachelor.
It's never a good sign when a contestant reveals that they were recently in a relationship or that they dated someone close to the Bachelorette, but everything is likely about to come out in the coming episodes. As seen in the promo for week three's episode this season, Tia is going to show up on a group date, during which Becca is bound to sit down with the two of them and figure out how they met, how serious it was, and if there are any feelings left between them.
It might just be Colton's captivating green eyes or his earnest and seemingly sweet personality, but I'm definitely hopeful that anything he had with Tia is long done and over with and that he's ready to move forward with Becca.