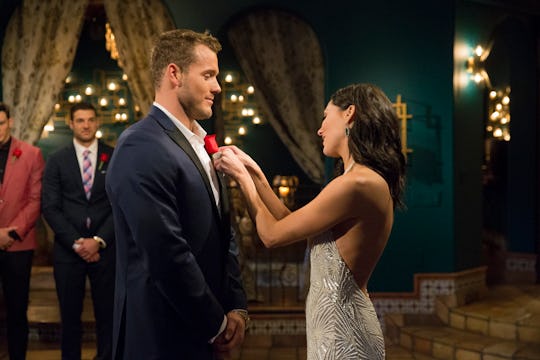 Paul Hebert/ABC
Tia & Colton From 'The Bachelorette' Have A Romantic Past
We're only in week two and already there have been tears, secrets exposed, and a contestant letting it all hang out for the sake of attention on The Bachelorette. It's all in a day's work in t he franchise, but finding out so early on that Colton Underwood has a past with former Bachelor contestant Tia Booth is a lot to take in. It definitely makes you wonder, though, what does Tia think of Colton on The Bachelorette? They have a romantic history together that was actually as recent as weeks before filming began for Becca Kufrin's season of The Bachelorette, so it definitely hit close to home for this season's suitorette.
But as far as what Tia actually thinks of Colton now that he revealed on The Bachelorette that he spent a weekend with her prior to coming on the show, that's the million dollar question. During The Bachelorette Season 14 premiere, Tia live tweeted her thoughts on a lot of the guys' limo entrances, but she didn't post anything about Colton's and hasn't said anything on social media about her past with the former NFL player. She has been super supportive of her fellow Bachelor contestant and friend Becca being the new Bachelorette, however, so chances are, she doesn't have any feelings left over for Colton, but maybe just has too much respect for Becca to say anything about it publicly.
According to Colton on The Bachelorette, he met and had a weekend with Tia before the season premiered and, obviously, before he actually arrived at the Bachelor Mansion. But as show in a promo for the season, Colton is also the contestant who admits to being a virgin, so chances are, his weekend spent with Tia wasn't very serious as far as a potential future relationship is concerned.
Since the fling also lasted just a weekend, it could have been something that was meant to stay that way and, as Colton told Becca, he didn't develop any strong feelings for her over the short period of time. Since Tia didn't say anything to Becca ahead of the start of filming for the season, it also shows how not serious their short-lived time together probably was.
Before it was revealed that Becca would be the Bachelorette this season, Tia was rumored to be a strong frontrunner, so could Colton have applied to go on the show hoping that it would be her and they could get another chance together? That was clearly running through Becca's mind after he revealed his past with Tia to her, but Tia's own thoughts on Colton and their history together is still unclear. Chances are, however, that viewers will get to learn more about Tia and Colton's past in week three's episode since Tia herself will be one of Becca's friends helping out with a group date. Can we say awkward? Actually, can we say one of the most uncomfortable things to ever happen on this show?
Unfortunately it looks like the week three episode is going to handle all of the details regarding Tia and Colton's past together. In fact, Tia may have been persuaded by Bachelorette producers to stay mum for the sake of the show, especially since Raven Gates basically confirmed on Twitter that she's not going to spill the tea herself and that fans should instead tune in to The Bachelorette for all the juicy deets.
Tia's version of what happened between herself and Colton will no doubt be revealed on The Bachelorette soon enough, but for right now, let's just hope that it was as non-serious as Colton has claimed.