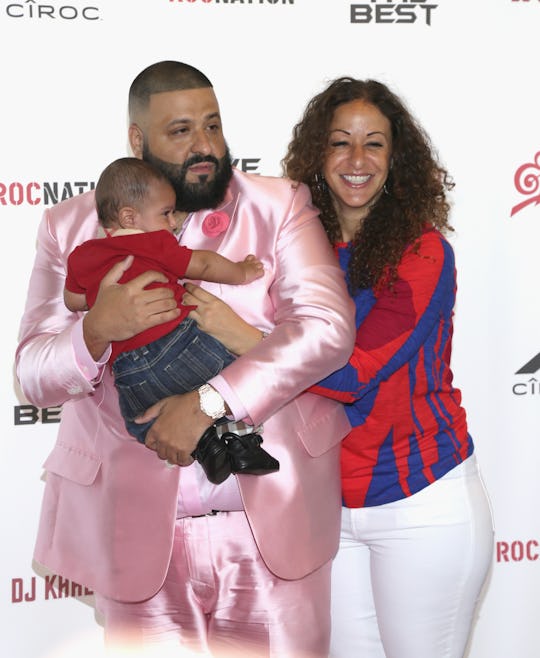 Jerritt Clark/Getty Images Entertainment/Getty Images
Nicole Tuck & DJ Khaled's Sweet Story
So probably everyone has heard of DJ Khaled's love for his little boy, Asahd Tuck Khaled. The music producer and Snapchat icon can't seem to stop posting adorable shots of his 5-month-old son, even naming him as an executive producer on his latest album. But there's actually another special someone in Khaled's life: Asahd's mother and Khaled's longtime fiancée, Nicole Tuck. This power trio was actually a power couple for a long time before the baby was born — so long, in fact, it's hard to remember how exactly Khaled and Tuck met. After all, the two reportedly dated for years before getting engaged and becoming all kinds of famous, including Snapchat famous.
Tuck has kept a decently low profile on social media, or as low as one can when one is giving birth live on Snapchat. Yes, that's right, Khaled took to Snapchat to film his son's birth. When Jimmy Kimmel asked Khaled how Tuck might feel about that before Asahd (which is Arabic for lion) was born on Oct. 23, 2016, Khaled explained:
The key is that I'm the king and every queen should support the king. I'm going to talk to the doctor and if the doctor says everything is gonna run smooth, meaning that we wanna make sure that the queen is right and my son is right. If it's running smooth where I can just do my thing, I'mma Snapchat the whole thing.
"The Queen" Tuck must have been fine with "supporting her King" while giving birth to a human being; the video was posted to Snapchat and history was made. Tuck has actually been Khaled's partner since long before he became famous for his unique blend of music and doling out little nuggets of wisdom to the masses. According to Earn the Necklace, she has supported him throughout his music career and even weathered the odd controversy or two. Like that time in 2013 when Khaled "proposed" to Nikki Minaj. It was a publicity stunt, as Minaj herself confirmed, but it still could have gotten tense for Tuck.
The new mom has been a busy woman in her own right; Not only is she Khaled's unofficial manager and frequent co-star on his Snapchat, she also created her own clothing line in 2011 called ABU Apparel. Now, of course, she is busy with baby Asahd.
Clearly, Khaled has found the right woman for him. Because if you find a woman who is okay with you posting her labor on Snapchat, hold on tight with two fists and never let her go, my friend.