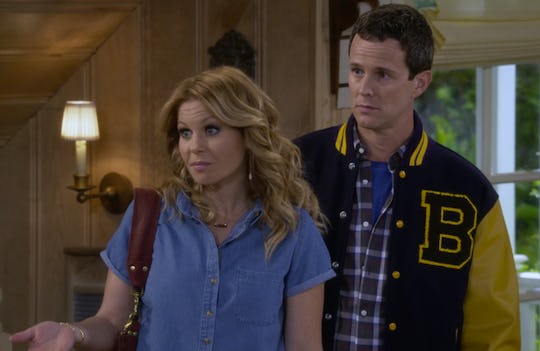 Fuller House/Netflix
How Did DJ Meet Her Husband On 'Fuller House'? It's One Of The Show's Darker Moments
Fans of Fuller House had to wrap their heads around D.J. Tanner being a grown up lady and a mom. OK, no problem. Then, they had to see Stephanie as another grown up... yep, weirder. And then, there's Kimmy Gibbler looking basically the same but also older, and Steve is still in his letterman jacket being a goof, and OMG there's Uncle Jesse. It was a lot to take in. But now, fans have to tackle D.J. being a tragically young widow and her (presumably) fantastic husband was taken from her too soon. It's getting harder to stay on track. But just how did D.J. meet her husband? Fuller House is starting to feel like homework, guys.
Well how D.J. Fuller-Tanner met Tommy Fuller hasn't really been divulged. (And we need to discuss the fact that his last name was Fuller. As in, 'Fuller' House. Because that just freaked me out.) It turns out Tommy was a firefighter, one of the most dependable, solid, manly jobs out there (which has me picturing him in those overall/tight t-shirt combos and feeling bad about myself). I can just see him complimenting D.J.'s impeccably highlighted hair and barbecuing on weeknights so she can relax in a bubble bath. I miss him already. I bet he smelled like fresh cut grass and maybe very fragrant man sweat. How is Steve ever supposed to compete with that, I ask you?
So, since we don't know for sure how they met, I've got a few ideas.
Tommy was a firefighter. D.J. was a full time veterinarian who looks like this:
So, I'm thinking he might have rescued a cat from a tree on a slow day at the old Fire Hall. He probably wrapped the little kitty up in his arms and brought it in to the vet to be cared for by D.J., who naturally had her caramel-toned hair in one of those cinnamon-bun sized updos that looks haphazhard but takes six hours. Tommy was a goner (sorry, no pun intended. RIP Tommy Fuller).
Or, maybe she was out for a night with Gibbler. Maybe the girls were having a cocktail and lamenting the lack of good men in the area when in walks this gorgeous firefighter wearing one of those earnest plaid shirts with the sleeves rolled up. And then she was a goner.
Or maybe they met on Match.com.
All of this speculating is depressing me a little. Because Tommy is gone, and (I'm so sorry to say this) but Steve has gotten super weird. With any luck, that new Matt guy who is also a vet will get a chance with D.J. He seems sort of Tommy-ish to me. Plus, not to be that way, but dude's a doctor and that's attractive.
Just sayin'.