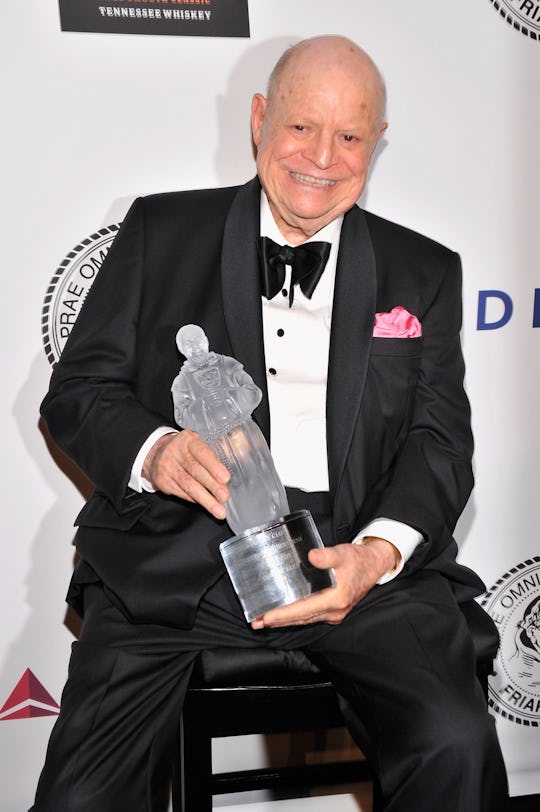 Stephen Lovekin/Getty Images Entertainment/Getty Images
Comedian Don Rickles Has Died At The Age Of 90
A fixture in the Tonight Show scene, Don Rickles made fans laugh for decades, both on film and in television. On Thursday morning, the legendary comic died at 90 years of age, breaking the hearts of those who loved and knew him best, according to TMZ. So how did Don Rickles die?
According to the outlet, Rickles reportedly suffered kidney failure. His wife of 52 years, Barbara Sklar, was said to be by his side. A statement provided by his rep asked that, in memory of Rickles, donations be made to the Larry Rickles Endowment Fund at Children's Hospital Los Angeles, in honor of their late son Larry Rickles, who died at 41.
Rickles' comedic resume is seemingly endless. Appearances on classics such as The Addams Family, The Dick Van Dyke Show, The Andy Griffith Show, and Gilligan's Island rounded out his early career. His work in dramatic films, such as Martin Scorcese's Casino, were also key in securing his stardom. Still, he might be best known in some households for the work he did a little later in his life; Rickles voiced Mr. Potato Head in three Toy Story films. "I busted my bird for 60 years in the business, but my grandkids only know me as Mr. Potato Head," he once lamented.
Though the above roles are for the most part squeaky-clean, Rickels' comedic style was known for being brash and invasive. A true insult comic, everyone was fair game for criticism, from unsuspecting spectators to big names like Frank Sinatra. Dean Martin himself once shared with audience members at the Sahara Hotel Casbar Lounge: "Don Rickles is the funniest man in show business. But don't go by me; I'm drunk."
In 2014, Spike honored Rickles by putting together — what else — a roast. Robert De Niro, Martin Scorcese, Jon Stewart, David Letterman, Jerry Seinfeld, Tina Fey and Amy Poehler all came out to grill Rickles. Since the news of his passing, plenty of comedians have expressed how impactful he truly was on their careers. Billy Crystal called it "a giant loss." Jim Carrey thanked Rickles, deeming him an "ego slayer" and "comic Everest!" Jimmy Kimmel tweeted:
90 years with Don Rickles weren't enough. One of the sweetest and most lovely people I had the pleasure of knowing. We miss you already.
Rickles will forever be remembered by the community that so dearly valued him. He wasn't everyone's cup of tea, but he definitely stood the test of time. "When you stand alone and sell yourself," he once said, "you can't please everyone. But when you're different, you can last."