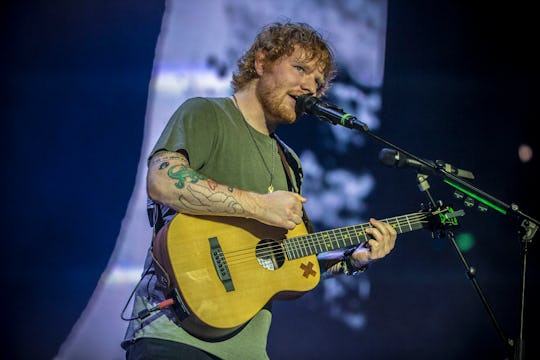 Glenn Hunt/Getty Images Entertainment
How Did Ed Sheeran & Cherry Seaborn Meet? They've Been Friends For Years
The Grammys are fast approaching, which means many people are wondering if their favorite Brit will show up with his new, rumored girlfriend. Ed Sheeran is up for four Grammy Awards this year, and if he brings anyone as his guest, it will likely be Cherry Seaborn, the British hockey player who's been spotted with Sheeran quite a bit lately. So how did Ed Sheeran and Cherry Seaborn meet? According to Mirror, Sheeran and Seaborn went to high school together in Framlingham, Suffolk, at Thomas Mills High School.
No word on whether they dated there or not — rekindled high school romance, anyone? — but Sheeran's reps have yet to confirm even current dating rumors, so let's not get ahead of ourselves here, people.
Still, it seems Sheeran and Seaborn have known each other for quite a few years now, and both have spent quite a bit of time in the U.S. for their careers. Us magazine recently said a source "close to Sheeran" confirmed the relationship. But, if that wasn't proof enough for Sheeran's fans — who would like to be in Seaborn's place — DJ Calvin Harris posted a picture of them looking fairly close in early September. Mirror even snapped a few shots of them at a New York Mets game around the same time.
Since then, however, the couple has laid low. After a 16-month tour that wrapped up in New Zealand mid-December, Sheeran decided to take a little break from social media and... well, the world. He laid low in the U.K. for a while and had eardrum surgery in January, according to Us magazine, which kept him from traveling for a while. However, the world can expect to see Sheeran at the Grammy Awards in Los Angeles in less than two weeks.
"I wasn't going to attend even after getting nominated, because I've been the last three years and always lost. I've known I'm not going to win so I get smashed before," Sheeran told The Sun in January. "But then it's going to be sod's law that this would be the year I get it if I didn't go. So I'm going to go and if I don't get it, I won't go again."
Just the kind of honesty and humor that I love hearing from Sheeran. With any luck, he'll emerge from his social media blackout with his friend/girlfriend/what-have-you Seaborn as well, so fans can maximize their time gushing over him before he disappears from the limelight again.