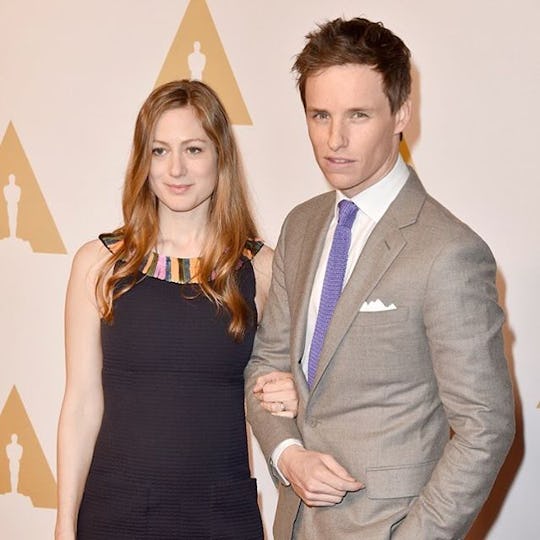 How Did Eddie Redmayne Meet Hannah Bagshawe? The Happy Couple Had An Adorable Beginning
As the movie-world gears up for the 88th Annual Academy Awards, the possibility of Eddie Redmayne taking home an Oscar for Best Actor in a Leading Role is at the forefront of everyone's mind. Fans want to know all they can about the actor that could upstage Leonardo DiCaprio. Where is he from? How long has he been acting? And, of course, how did Eddie Redmayne meet Hannah Bagshawe, his wife of two years?
The story is as endearing as it is slightly hilarious. Eddie attended Eton College, an independent English all-boys' boarding school, the same year as Prince William, and met Hannah at a neighboring boarding school for girls. Hannah and some classmates had scheduled a fashion show for charity, and Redmayne volunteered to walk the runway. Topless.
Redmayne recounted the story to Daily Mail, saying, "I was this pasty, freckly guy and when I came on the girls in the audience didn't take much notice of me, but I was followed by the best-looking boy in the school and all the girls erupted in cheers, which was emotionally scarring!" Someone did take notice, however, and Hannah (who now works in public relations) and Redmayne began a 12-year-long friendship that eventually turned into a romantic relationship.
The friendship turned to love while Redmayne was filming Les Miserables. Due to an unforgiving and often grueling shooting schedule, Eddie decided to travel to Florence for a quick, short break. Redmayne told The Daily Mail that during a "sort-of date", he looked at Bagshawe and asked if she would like to join him in Florence as well. It took the PR woman some convincing — she initially thought Redmaynbe was joking — but she finally agreed. That was four years ago and the rest, as they say, was history.
Now the couple are preparing for the Oscars, where Redmayne stands to win Best Actor for the second year in a row, thanks to his outstanding portrayal of transgender woman and artist Lili Elbe, in The Danish Girl. The "Best Actor In A Leading Role" category presents some stiff competition, however, as Redmayne is up against fan-favorite DiCaprio, Bryan Cranston, Matt Damon and Michael Fassbender — all of whom gave incredible performances in their respective films. If cinema fans are having a difficult time picking a favorite, I can't imagine how tough it will be for the Academy to name a winner.
We may not know what will happen Feb. 28 when the Academy Awards air live on ABC, but we do know that regardless of whether or not Redmayne takes home another Oscar, he already won at life when he married Hannah Bagshawe — especially since the couple are expecting their first child later this year. And really, isn't that a better gift than another gold statuette?