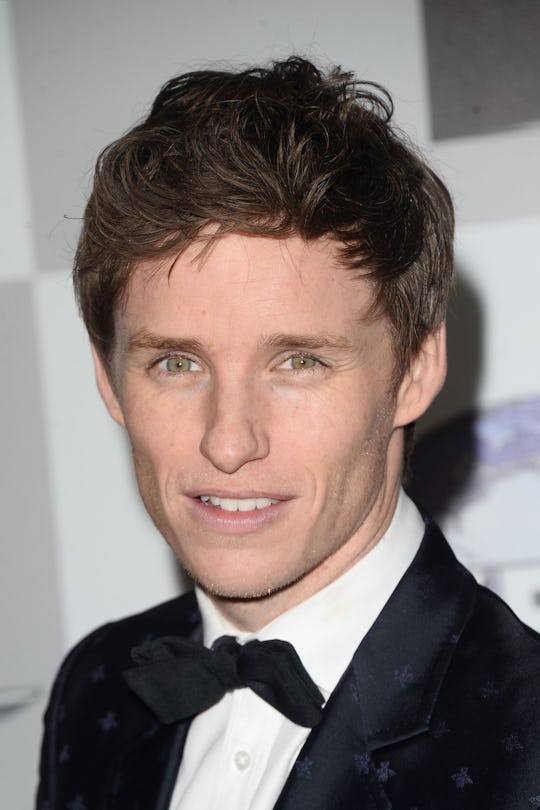 Will Eddie Redmayne Win An Oscar Two Years In A Row? He's Got A Great Record
The 2016 Oscar Nominations are in, announced early Thursday morning at the Samuel Goldwyn Theater in Beverly Hills, California. As Guillermo del Toro and Ang Lee listed off the nominations alongside Academy President Cheryl Boone Isaacs and actor John Krasinski, viewers undoubtably had some questions, one of the most popular being: Will Eddie Redmayne win an Oscar two years in a row?
Redmayne was nominated for an Oscar in the Best Actor in a Leading Role category, the same category he took home an Oscar for just one year ago. In 2015, Redmayne took home the coveted statue for his performance as world renowned physicist Stephen Hawking in The Theory of Everything. In his acceptance speech last year, in which he dedicated his win to people around the world battling ALS, he said:
I don't think I am capable of articulating quite how I feel right now, but please know this: I am fully aware that I am a lucky, lucky man.
You can say that again, Eddie.
Now the incredibly talented actor has the chance to do it again, this year for his role as transgender woman and artist Lili Elbe in The Danish Girl. Redmayne is quickly establishing himself as a versatile actor, capable of morphing into characters by not only embodying their personalities, but taking on their physical changes and manifestations as well.
Redmayne will have some stiff competition, however. Earlier this year, he lost the Golden Globe to fellow actor Leonardo DiCaprio, and is going up against the actor again at this year's Oscars show. DiCaprio is a favorite to win that category because, well, his performance in The Revenant was stunning, but well, DiCaprio doesn't exactly have the best luck when it comes to The Academy Awards.
This year's Best Actor nominee field offers fans a talented pool of actors to root for (or against), but no one can completely overlook or scoff at Redmayne's chance to repeat. We could very well be watching the amazing actor triumphantly take the Oscar stage — and no matter who he's up against, it would be a treat to watch him win.
Redmayne won't just face off against DiCaprio, though. This year's Best Actor list includes: Bryan Cranston for his role in Trumbo; Matt Damon, who starred in the Golden Globe-winning film The Martian; and Michael Fassbender who was nominated for Steve Jobs. It's going to be a showdown of talent this year, guys.
So, will Redmayne return for a second win? As far as I'm concerned, things look really, really good for him. But, like the Oscars is wont to do, nothing is guaranteed!
Image: Matt Winkelmeyer/Getty Images, Oscars/YouTube (2)