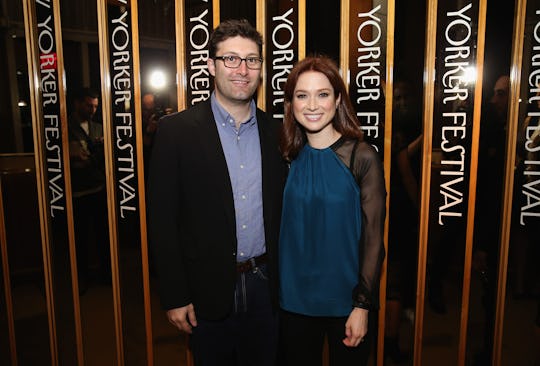 Neilson Barnard/Getty Images Entertainment/Getty Images
How Did Ellie Kemper & Michael Koman Meet? Late Night Comedy Brought Them Together
The unbreakable Kimmy Schmidt is pregnant, y'all. Well, not really — but Ellie Kemper, who stars on the show, recently announced her pregnancy on The Tonight Show to the delight of fans. (I mean, come on, Kemper with a kid? She's going to be the most adorable, hilarious mother ever.) I didn't even know Kemper was married, which leads to the obvious next question: how did Kemper meet her husband, Michael Koman?
It's actually fitting that Kemper announced her pregnancy on a talk show, since she originally met her husband on one. Kemper was an intern on The Conan O'Brien Show, where Koman was a writer for the show. They started out as friends before moving into relationship territory. As Kemper told Vanity Fair, "There was a part of me that was like No time for love! I have to focus on my career!"
After a conversation where they discussed whether they should be a couple, the two stopped talking for a couple of months. But, when Koman called in to work sick one day, Kemper reached out to him to check if he was okay. "Let's be honest," Kemper told Vanity Fair. "I think he probably had a sore throat. But it prompted me to call."
Koman is a TV comedy writer, and judging by the shows on his resume, he's a pretty good one. He's worked on 907 episodes of the Conan O'Brien Show — no big deal — and written for The Colbert Report, Important Things with Demetri Martin, and Nathan for You. He's even acted in a few shows himself, and in the last few years his producer credits have been stacking up.
Kemper and Koman got married in New York in 2012, and the Bridesmaids star told Us Weekly that she got her own taste of wedding madness. "I was always like, 'I'm going to be the cool bride! I'm going to be laid-back about everything!' But... I'm not," she said. "Especially with Michael, my fiance, I've been like, 'Why don't you contribute?' So then he contributes an idea and I'm like, 'That is a terrible idea! Stop contributing!'"
It seems like Koman and Kemper are going to have one seriously hilarious baby — or they will at least raise the tot in a laugh-filled household. Kemper isn't active on social media, but once she has her baby, I hope we get a glimpse of the tiny boy or girl. Who knows, maybe the baby's first public appearance will be on a late night comedy show, too.