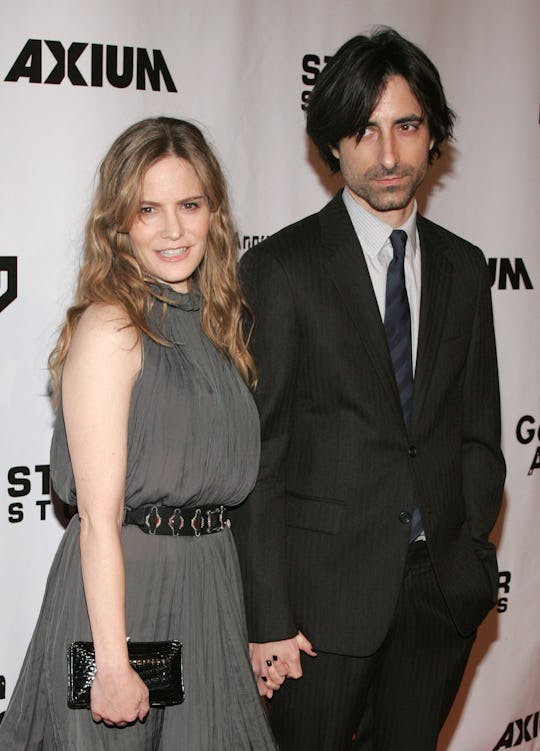 Bryan Bedder/Getty Images Entertainment/Getty Images
How Did Jennifer Jason Leigh & Noah Baumbach Meet? The Indie Couple Has A Complicated History
Jennifer Jason Leigh. She was an up-and-comer in the '80s, a noir star in the '90s, an indie girl/Broadway hit in the early 2000s. Her name was off the radar in a pleasant sort of way, and when one saw her in a movie they might have thought, "Oh yeah! Her! I remember her!' But now she's back. Looking so phenomenal in her fifties it has us wondering what her dating situation might be? Is she still with director Noah Baumbach? How exactly did Jennifer Jason Leigh and Noah Baumbach meet?
The couple, who had one child together in 2010 named Rohmer, began dating while Leigh was starring in the 2001 Broadway play Proof. Leigh was living in the West Village at the time, and was introduced to Baumbach through her co-star and his friend Josh Hamilton. The couple dated for four years before marrying in 2005. Baumbach, a independent director, producer and writer who seems to specialize in producing movies about complicated relationships (Margot At The Wedding, The Squid And The Whale, 2015's While We're Young), was feeling blissfully optimistic about their marriage in the beginning, according to People.
"I expect to be with [Leigh] for the rest of my life," Baumbach told the publication during the premiere for his film, The Squid and the Whale, just days after they were married in 2005.
They certainly did seem like a match made in indie heaven. They collaborated in 2007 on the dark family comedy, Margot At The Wedding, also starring Nicole Kidman and Jack Black. Eventually the pair co-wrote the movie Greenberg, starring Ben Stiller and Greta Gerwig, in 2010. ‌
Which might have been the beginning of the end of their happy relationship.
Just seven months after the birth of their only child Rohmer, Leigh filed for divorce citing irreconcilable differences, according to E!. She sought full custody of their son with visitation rights for Baumbach, who began dating Greenberg star Gret Gerwig in 2010.
The separation must have been difficult for Leigh, as a child of divorced artists herself. Her father was actor Vic Morrow and her mother was screenwriter Barbara Turner who were married for seven years and divorced when Leigh was only three years old. Leigh had a falling out with her father and remained resentful towards him for years. She changed her name as a teenager to remove herself from him in the public eye. People reported at the time of Morrow's death in 1982 along with two child actors in a helicopter accident on the set of The Twilight Zone, that father and daughter remained ambivalent.
Leigh has stayed out of the limelight since her divorce settled in 2013. But with this year's Oscar nominated turn in The Hateful Eight, she's back (and looking fabulous!).
With an eclectic career behind her and an exciting career sure to come, Jennifer Jason Leigh looks to be on top of her game as a strong, successful Single White Female. (You had to know I was going there...)