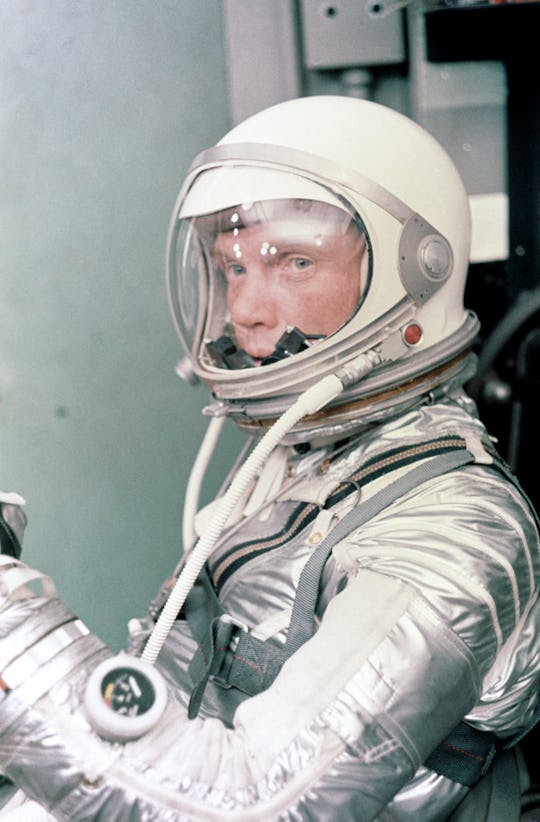 NASA/Getty Images News/Getty Images
How Did John Glenn Die? His Passing Has Left The Nation In Mourning
John Glenn lived an extraordinary life. He was the first American to orbit the earth and enjoyed a long political career as a United States senator. So it makes sense that the news of his passing at the age of 95 years old would be disheartening for so many people, many of whom weren't even aware that he had been hospitalized and had no idea how the famed John Glenn had died.
Glenn was hospitalized last week at James Cancer Hospital in Columbus, Ohio. He had been struggling with health issues for some time due to a stroke he had suffered in 2015 that left him partially incapacitated. The news of Glenn's death, prompted lawmakers across the country to offer words of condolences and remembrance, including a statement from President Obama:
With John's passing, our nation has lost an icon and Michelle and I have lost a friend. John spent his life breaking barriers, from defending our freedom as a decorated Marine Corps fighter pilot in World War II and Korea, to setting a transcontinental speed record, to becoming, at age 77, the oldest human to touch the stars.
The last of America's first astronauts has left us, but propelled by their example we know that our future here on Earth compels us to keep reaching for the heavens. On behalf of a grateful nation, Godspeed, John Glenn.
John Herchel Glenn Jr. was the first American to orbit the earth in 1962. He was the last living member of the Mercury Seven, the first astronauts chosen by NANA in 1959. When Glenn's death was announced on Thursday, NASA Administrator Charles Bolden released a statement not only congratulating Glenn on a long life of service and courage, but reflecting on the loss of a personal friend:
Personally, I shall miss him greatly. As a fellow Marine and aviator, he was a mentor, role model and, most importantly, a dear friend. My prayers go out to his lovely and devoted wife, Annie, and the entire Glenn family at this time of their great loss.
After Glenn retired from NASA he went on to become a Democratic senator for his beloved home state of Ohio for four terms, announcing his retirement from political life in 1997. He was well-respected on both sides of the bench for his kindness, his self-effacing modesty, and his dedication to the American people.
Glenn could have drifted off into the sunset to enjoy a happy retirement with his beloved wife Annie, the childhood sweetheart he married in 1943. Instead, 1998 saw Glenn take off on yet another adventure; at the age of 77-years-old, Glenn went back into orbit in the space shuttle Discovery and became the oldest person ever to fly in space.
Men like John Glenn (fighter pilot, astronaut, politician, devoted father and husband) do not come through this world often. As we mourn his loss, we can also celebrate the extraordinary impact he had on the lives of so many.
God speed.