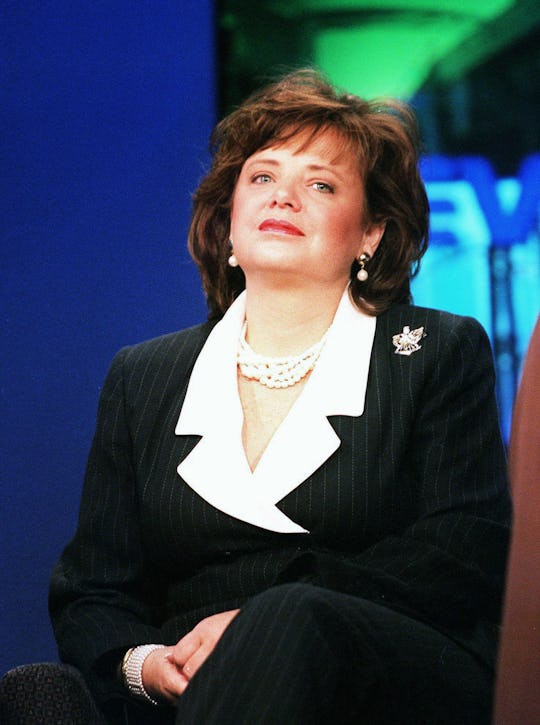 MARIO TAMA/AFP/Getty Images
How Did JonBenet Ramsey Get Into Pageants? It Was A Family Tradition
It's hard to imagine a single person in North America who doesn't instantly recognize her face: the big blonde curls, the lips painted bright red, the heavy mascara and lace dresses. JonBenét Ramsey was killed when she was just 6-years-old, but to this day, years later, she is remembered. More specifically, it has been nearly 20 years since her death, and still the world (and now the internet) simply cannot get enough of her. What was it about JonBenét that people found so intriguing? Certainly the sad fact that her murder remains unsolved is a factor, but perhaps it was also JonBenét Ramsey's involvement in child beauty pageants that has kept people so enraptured.
While the world remembers the tiny beauty queen, smiling and poised and wearing more perfectly applied makeup than many grown women, her father John Ramsey told ABC News that wasn't how he remembered his daughter, in 2012 interview. "I see her, you know, in shorts and t-shirt and hair kind of scruffy and just kind of a kid," he recalled.
Ramsey remembered his daughter as a bit of a tomboy, always wanting to hike and play outside with her older brother Burke. He told the media outlet that his wife Patsy Ramsey, herself a former beauty pageant queen, looked at the pageant world very differently from shows like TLC's Toddlers and Tiaras.
He called the show "bizarre" and said, "Patsy and JonBenét didn't approach it that way. We—they just did it for fun." Romper reached out to the Ramsey's representation but did not hear back at the time of publication.
Ramsey told ABC News that JonBenét first became excited about participating in pageants after seeing her mother on stage at a pageant reunion. Patsy Ramsey, born Patsy Paugh, was crowned Miss West Virginia in 1977.
After JonBenét was found strangled to death in the family basement in boulder, Colorado on Dec. 26, 1996, John Ramsey admitted he seriously regretted every allowing his daughter to participate in the pageants. In that same interview with ABC News, he recalled an incident that happened just days before JonBenét's murder, right around the time JonBenét was crowned "Little Miss Christmas":
Patsy had her sitting atop a friend's convertible in the Christmas parade waving at the people lining the streets. Patsy's mother later told me that a strange man approached the car during the parade and it made her uncomfortable. I think about these things now and it makes me cringe. We were so naïve. I now believe with all my heart that it's not a good idea to put your child on public display.
In the 20 years that have passed since JonBenét was found murdered, the Ramsey family (including then nine-year-old son Burke Ramsey), have been considered — though never charged — as prime suspects in her death. Patsy Ramsey died of cancer in 2006, 10 years after losing her daughter. The family was eventually cleared of all suspicion after new DNA evidence found on JonBenét's clothing did not match anyone in the Ramsey family. When Romper reached out to the Ramsey family attorney, L. Lin Wood, he had the following statement regarding the public scrutiny the family faced.
In terms of the accusations against John and Patsy Ramsey, the Boulder District Attorney, Mary Lacy, publicly exonerated them in 2008 based on irrefutable DNA evidence. She apologized to the family and assured them that in the future, they would be correctly treated as victims. The days of Ramsey accusations should have ended then and there.
The case of the little beauty pageant queen, JonBenét Ramsey, is the subject of a new six-part docuseries on CBS called The Case Of: JonBenét Ramsey. The show will follow investigators who will try to finally solve the case of her murder staring Sept. 18.