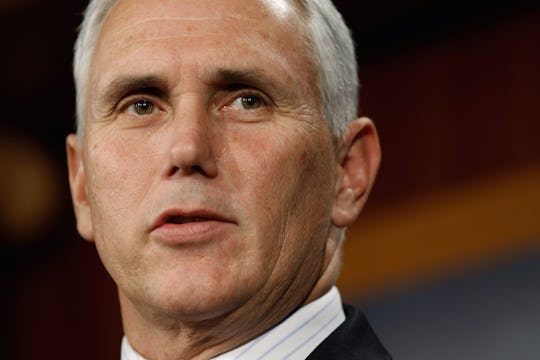 Chip Somodevilla/Getty Images News/Getty Images
How Did Karen Pence & Mike Pence Meet? The Couple Had A Chance Encounter
After Roll Call reported that Donald Trump would select Indiana Gov. Mike Pence as his running mate in the 2016 election (something his campaign has not yet confirmed, saying a decision hasn't been made), America collectively turned to Twitter and Google to find out, who is Mike Pence, exactly? But the curiosity about Pence doesn't stop there — inevitably, after Googlers finish rifling through Pence's platforms and political beliefs, there's one other place to turn: to his family. And, first and foremost, the governor's wife. Where did it all begin? How did Mike Pence meet Karen Pence?
(Update: Trump confirmed that Pence would be his running mate on Twitter Friday morning, writing, "I am pleased that I have chosen Governor Mike Pence as my Vice Presidential running mate." The presumptive nominee will also conduct a news conference on Saturday, which was delayed from Friday following the Nice terror attack.)
Pence, it should be noted, is not just the Indiana governor's wife — the state's first lady also uses her position for charity work. Though she has hobbies — like watercolor painting — and businesses, with a towel charm company, Pence also is an advocate for children. Pence serves as Riley Children's Hospital's Art Therapy Initiative's Honorary Chair, and is the founder of Indiana's First Lady's Charitable Foundation.
But, let's rewind to a time before the Indiana governor's wife had succeeded at these achievements. When Mike Pence first met the first lady. It was, quite fittingly for the Evangelical possible vice presidential pick, at church. According to the Indy Star, the artistic Pence, who played guitar at her church, was approached by Mike, who discovered he went to law school with Pence's sister. As the Indy Star further reports:
A few days later, he went to the registrar to look up her sister to get "the scoop" on the guitarist. At first, the registrar refused. When Mike Pence told her why he wanted the number, she relented and handed over the sister's number.
After calling Pence's sister and reaching Pence instead, Mike hung up in fear, tried again, and asked her out to dinner. Their date included ice skating and family, and a prescient prediction from Pence's niece.
That evening Karen's 10-year-old niece bet him $1 that he would marry her aunt. She won. And the registrar attended the wedding.
Pence herself knew that she and the future Governor were headed for wedded bliss — the Indy Star reports that Pence, who has three children with the governor, had a gold cross with the word "yes" engraved in it, and, shortly thereafter, Pence had a question to respond to with that very word.
Though Pence did not care for politics as much as her husband, she told the Indy Star that the couple works very closely together. As she said, "We've always been a team ... we've always approached it as a team." That includes coming to a consensus when it comes to decisions — and it seems Mike had quite a big one to make if reports are true that he's been chosen as Trump's running mate. Here's guessing we'll see quite a bit of Pence on the campaign trail in the coming months.