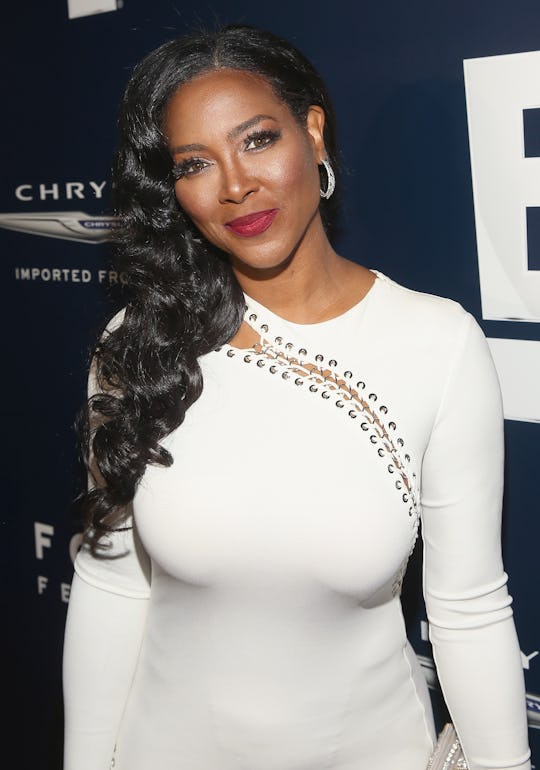 Jesse Grant/Getty Images Entertainment/Getty Images
'RHOA' Star Kenya Moore Met Her Husband In The Most Adorable Way
Kenya Moore is still keeping her husband under wraps on Season 10 of Real Housewives of Atlanta, but at least the cast started calling him by his real name and we no longer have to listen to grown women refer to a stranger/friend's husband as "Baby" or "Bae." But since we still haven't caught a glimpse of him on the show (and no one has met him with the exception of Cynthia, who spoke to him on the phone once), some fans may be wondering: how did Kenya Moore and her husband meet? Actually, it was a fellow Bravolebrity who introduced the couple.
Kenya's husband Marc Daly was a Wall Street banker for many years before investing in a Brooklyn restaurant called SoCo, which serves Southern fusion food in Williamsburg. Back in the summer of 2016, Roblé Ali (of Bravo's Chef Roblé & Co.) invited Kenya out to dinner while she was visiting New York. The spot they ate at happened to be co-owned by Daly at the time, and he swung by the table to say hello on his way out. Roblé — who was at one point romantically linked to Kenya after a particularly cozy Instagram photo of the two was posted — introduced them. (The chef later clarified in a since-deleted comment that they were just friends. At one point, Kenya was even his client.)
"We have always been friendly, and he's a sweet guy. When he invited me to a restaurant my husband co-owned at the time, I was in a dark place, but something told me to go," Kenya wrote in her BravoTV.com blog. "After Marc left, Chef Roble spoke so highly of him. He explained that he was a former Wall Street banker and entrepreneur who wants to help people. I asked myself, 'How come I can't meet a guy like that?'"
She and Marc didn't begin seeing each other right away, but Kenya broke one of her own dating rules (don't make the first move) to circle back, asking Roblé that December if Marc was single. "I've never done that, but I'm glad I did!" Kenya wrote, citing counseling and self-examination as two tools she used to help her get there. And although the speculation surrounding their elopement and marriage has been tough for them to deal with on the show, Kenya firmly maintains that she always knew he was the one, writing:
We connected right away. He was easy to talk to, funny, and emotionally available, and we spent hours on the phone before meeting. When we had our first date, the earth literally shifted. I called Cynthia and told her I just met my husband. I knew — I knew right away. I was vulnerable with him in a way I've never been before. I let my guard down and just showed him my true self.
The couple got married in a private, secret-ish ceremony on the beach in St. Lucia. People was invited to profile it, but none of Kenya's castmates knew about the wedding, and not even her father was there. Her elopement caused rumors questioning the veracity of the marriage to proliferate, along with the fact that Kenya and Marc's marriage was long-distance in the beginning. (She has since moved out of Moore Manor and bought a home with Marc.) She was living in Atlanta while he was still based in New York, which came to a head about two weeks into their marriage, when fans saw Kenya break down to a producer. But according to her Instagram and her Bravo blogs, she and Marc are both feeling much stronger in their relationship now that the season has wrapped.
Check out Romper's new video series, Romper's Doula Diaries:
Watch full episodes of Romper's Doula Diaries on Facebook Watch.