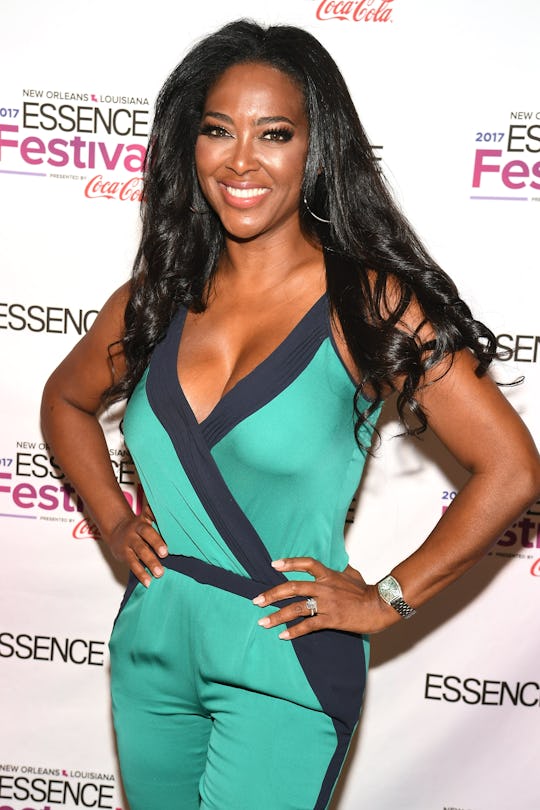 Paras Griffin/Getty Images Entertainment/Getty Images
Kenya Moore's Husband Has Done Well For Himself
Kenya Moore surprised not only her Instagram followers, but also her Real Housewives of Atlanta castmates, when she revealed that she eloped in a ceremony on the beach at a private resort in St. Lucia this past summer. None of her fellow Real Housewives had met her new husband when she got married and he has yet to make an appearance (or even have his name revealed) on the show. So what is Kenya Moore's husband's net worth? Here's what we know about his background so far.
His name, which NeNe eventually discovers later on this season, is Marc Daly and he owns a southern fusion restaurant in Brooklyn called SoCo. He took sole ownership of the business after some shady accusations led his partnership to dissolve. As most people named Peter Thomas know, opening a restaurant is no easy feat: they're basically giant money pits and are virtually impossible to make a profit on. But it seems safe to assume that Kenya is not following in Cynthia Bailey's footsteps and fronting tens-of-thousands-of-dollar loans to her new husband for his risky business ventures. Marc used to be an investment banker, so, presumably, he has plenty of his own money to burn and a firm grasp of how business investments actually work.
According to Payscale, an average salary for a restaurant owner is around $60,000 a year, although they can earn as much as $160,000, depending on experience and location. It's certainly nothing to sneeze at, but does that really put him on Kenya's level? It's likely he raked in a huge amount of money working as an investment banker and is coasting off of his previously built wealth.
The 43-year-old reportedly got his broker license in 2006 and continued to have it renewed until 2015. That's almost 10 years in the investment banking space, making six figures a year. Marc worked at Credit Suisse First Boston in New York before becoming a Vice President at Citibank, working on Park Avenue. According to Glassdoor, Vice President Investment Banking salaries at Citibank range from $139,067-$151,353 a year. I'm guessing Marc successfully hit a seven-figure net worth at some point.
Kenya and Marc first met in the summer of 2016, but didn't start dating until that December. They were introduced by fellow Bravolebrity and mutual friend Roblé Ali of Chef Roblé and Co. The wedding came just six months later, in June of 2017, stunning just about everyone. But Kenya has a handy explanation for why she chose to shield her new husband from the limelight, even though she knew it would likely stir up controversy amongst her castmates (which it has: Season 10's shadiest rumor is that Kenya is in a staged marriage). She told People, who got the exclusive to profile her wedding:
He didn't sign up for this world, I did. Every time someone has been associated with me, they attack that person — immediately going after them, trying to bring them down and saying crazy things. They tear people apart. And so for [Marc], he was like, 'This is about me and you — it's not about me or you.' He just wanted it to be about our pure love and not about him.
It's not clear yet whether Marc will make an appearance on the season. As of right now, Kenya seems pretty determined to keep him away from the cameras. Stay tuned to Real Housewives of Atlanta to see if anyone ever gets to lay eyes on him in person.
Check out Romper's new video series, Romper's Doula Diaries:
Watch full episodes of Romper's Doula Diaries on Facebook Watch.