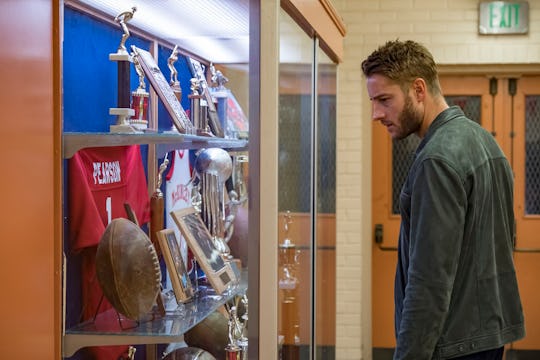 Ron Batzdorff/NBC
Kevin's Knee Injury Will Finally Be Explained On 'This Is Us'
When Kevin got hurt on the set of the Ron Howard film earlier this season, it was not only detrimental to his part in the movie, but since it happened to his "bad leg," in which he'd already had a preexisting injury, it was something much worse. In fact, he had to have surgery and go on pain medication afterward. But back when he was in high school, how did Kevin injure his knee on This Is Us? It was obviously a big part of his life at the time and, very likely, cut short what could have been a promising football career in college and beyond.
Things may have worked out for him, but judging by the promo for Tuesday's episode that shows Kevin returning to his high school, the knee injury is still a sore subject for him, even if he still ended up with fame and success as an adult. This Is Us executive producer Isaac Aptaker revealed in a roundabout way to Entertainment Weekly that Kevin's injured knee is a result of his football days and that when we see more flashbacks to this big high school injury, there's also going to be some clues as to how he made the transition from football athlete to theater enthusiast.
"It's safe to say that if you're a teenage football star and you have a big injury like that, that's going to really pivot your life and change the course of things. So, something in the time of that injury really made Kevin have to reevaluate what his passion was," Aptaker told Entertainment Weekly.
Executive producer Elizabeth Berger also added that Kevin "changed paths because of his knee," so it's safe to say that the initial injury to his bad leg was from football, especially since there seems to be a lot of focus on that in the upcoming episode, which will also be more Kevin-centric than any other episode before. (The following two episodes will take turns in focusing on Kate and Randall as well.)
For the upcoming episode "Number One," TVGuide.com lists the description as "Kevin goes back to his high school to accept an award. Jack and Rebecca get excited about their kids' futures." And in the promo, you see several images that show football being a part of Kevin's entire life for a long time. As a baby, he's holding a football, then as a young kid he's throwing one around with Jack and Randall. Later, as a teenager, he's clearly become the school's star player. There's even a shot of someone who is very likely a college scout visiting him at home before his knee injury takes place.
Of course, all of this is going to make it that much harder to watch as Kevin gets hurt and sees his entire football future come crashing down around him. But all of that definitely adds to the idea that Kevin injured his knee during a high school football game, which helps to explain the eventual cast on his leg and the reason that adult Kevin switched to acting rather than playing football in any capacity.
In the first of three episodes that will focus on one of the Big Three, Kevin's past will be more clear and outlined than ever, but as a kid who obviously thought he had it all figured out for himself, it's no doubt going to be heartbreaking to watch him lose it all in one fell swoop. I'd have some tissues on hand if I were you.
Check out Romper's new video series, Romper's Doula Diaries:
Watch full episodes of Romper's Doula Diaries on Facebook Watch.