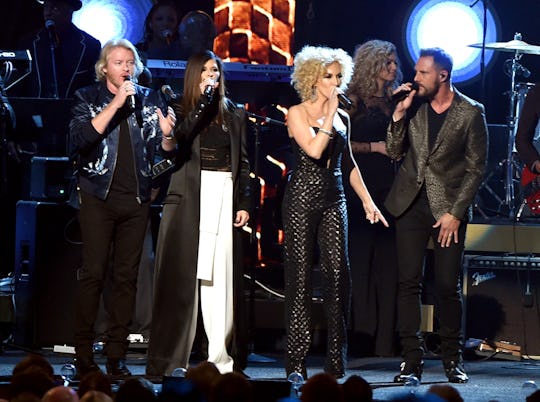 Jason Merritt/Getty Images for NARAS
How Did Little Big Town Meet? The Country Group Has Been Through A Lot Together
First let me admit something to you. I'm not proud of this but I was sort of hoping that if I did some digging I would find out that Little Big Town would be embroiled in some ABBA level spats. All of them dressed in sequined bell bottom jumpsuits throwing hotel room service at each other, heavy black eyeliner dripping down their faces. Because I was raised on soap operas and reality tv. I wanted to know — do they secretly hate each other? Are they all having wild affairs? How did Little Big Town even meet? Have they gotten into any for real hotel room fights?
I am sorry (and also happy) to tell you, but no. The Grammy-nominated country quartet (nominated for "Best Country Group/Duo Performance, "Girl Crush", Best Country Album, "Pain Killer") have been harmonizing beautifully together since 1998. They initially started out as a duo with Kimberly Schlapman (formerly Rodes) and Karen Fairchild. The two met as students in 1987 and shared a vision for wanting to create music that was completely different. Music that revolved around harmonies in a unique, pared down way. Jimi Westbrook, a friend of Fairchild's husband, joined the group in 1998 with Phillip Sweet completing the quartet in 1999. They released their first album "Little Big Town" in 2002 with moderate success. Their only single to make it to the Billboard Hot Country Songs Charts was "Everything Changes" which topped out at #33 that year.
The group was going through tough times in those days. Soon after the release of their first album Westbrook's father died, Fairchild and Sweet went through divorces and Schlapman's husband died unexpectedly of a heart attack while she was out on tour. "I didn't know if she would sing again after Steve died," Fairchild told CBS News in June last year. "There was so much sorrow in her eyes. So I didn't think she would really sing. I thought the band was over."
Schlapman was tenacious, though, and determined to keep going. That was a lucky thing, because now the band is closer to each other than ever. "We take care of each other." said Fairchild in that same CBS interview. "We've had the greatest lows and the greatest highs together. We are a walking, living, breathing country song."
And what highs they've seen so far. From the professional — this year will mark the second time the group has been nominated for a Grammy, winning the "Best Country Duo/Group Performance" in 2012 — to the personal. Hint: The hot chemistry between bandmates Jimi Westbrook and Karen Fairchild is steamy for a reason — they've been married since 2006 (okay, so there was a little bit of drama, but it was for the best, in the end).
So there you have it. A band that cares about each other, who have been through thick and thin and come out stronger for it. The only fights they have are fights against world hunger and maybe who looks better in cowboy boots or something. Not a sequined jumpsuit catfight in sight. Sigh.