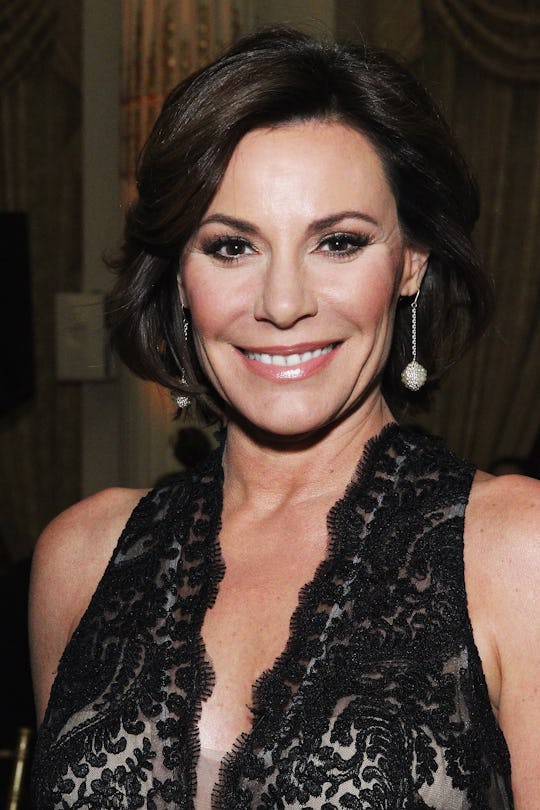 Astrid Stawiarz/Getty Images Entertainment/Getty Images
How Did LuAnn De Lesseps Meet Her Fiancé? The Two Met Thanks To A Familiar Face
If you follow The Countess on Instagram — and you absolutely should —, then you've probably already been spoiled on what will surely be a plot point on Season 8 of Real Housewives of New York — she's engaged to her new boyfriend Thomas D'Agostino, Jr. And, in a sad departure from her last boyfriend Jacques, D'Agostino and LuAnn do not appear to have the same haircut. If it feels like the relationship moved fast, though, that's because it did. The couple got engaged last February, after just eight months of dating. So, how did LuAnn de Lesseps meet her fiancé on Real Housewives of New York?
Much like other great Real Housewives relationships, you can bet a fellow Housewife had a hand in setting these two lovebirds up. In this case, it was Dorinda who introduced them at a party around June 2015, when both of them were dating other people. "Absolutely, 100 [percent], much to Ramona's chagrin — she would say otherwise, of course," Dorinda told Bravo's The Daily Dish. (Dorinda is, of course, referring to the fact that Thomas and Ramona dated at one point.) LuAnn and Thomas then ran into each other later at The Mark in New York — again, while dining separately with other people — but supposedly sparks flew when they chatted with each other.
"We were each with other people but started talking and it was magic," D'Agostino told People. "We have been inseparable ever since. She is like an asteroid who has impacted my life."
Sigh. Oh, to be described as a natural disaster by a very rich lover some day.
D'Agostino is the president and CEO of a corporate print industry company called Smart Source, and he's still hands on enough at the company that he's constantly jetting around. LuAnn is uniquely accustomed to that lifestyle, he says, and so he feels as though he's met his match.
LuAnn, for her part, is in full-blown "this is my second chance at love" mode and was gushing to the FABLife about marrying him even before he put an 8-carat yellow canary diamond on her finger.
"I was married for 16 years the first time and very lucky and have my two beautiful children. I never thought it would happen to me again, but I found love again, and I'm a hopeless romantic," she told FABLife before the engagement, calling D'Agostino her "soulmate."
Let the countdown to a Real Housewives wedding spinoff special begin.