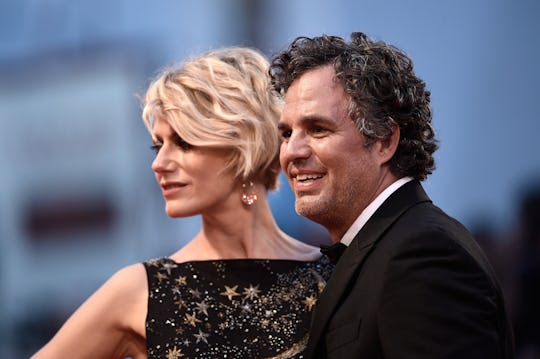 Ian Gavan/Getty Images Entertainment/Getty Images
How Did Mark Ruffalo and Sunrise Coigney Meet? It's A Great Story
If you've seen them on the red carpet, you know that actor Mark Ruffalo and his wife, actress Sunrise Coigney, are a great-looking couple. But their story is also great. The two have been married since 2000, about the time Ruffalo's career took off. They now have three gorgeous kids, according to Bustle, and live on a farm in New York, according to Closer Weekly, and Ruffalo is up for an Oscar Sunday for his role in Spotlight. Watching them walk the red carpet, holding hands and clearly being very into each other, many fans may wonder, specifically, How did Mark Ruffalo and Sunrise Coigney meet?
According to Ruffalo, it's something of a redemption tale — with her in the role of the redeemer and he the redeemed. Ruffalo and Coigney met in 1998 on the street, according to The Guardian and Men's Journal. "I was living in a dump and didn't even have a driver's license or a credit card. She thought I was a mess, but she believed in me and kept encouraging me," Ruffalo said, according to Closer Weekly. There was the slight issue that one of his friends was interested in her, but Ruffalo didn't let that stop him. "I saw her and was like, I'm going to marry that girl," he told Men's Journal.
The Guardian reported that Coigney turned down his first proposal, but the two ultimately got hitched.
They had their first child, Keen, in 2001, followed by Bella Noche in 2005 and Odette in 2007, according to Coigney's IMDB bio. And even with the stress that parenting a brood that size necessarily brings, they've evidently managed to maintain their connection.
That's especially impressive in light of the personal tragedy that has struck them not once but twice. First, Ruffalo was diagnosed with a brain tumor in 2001, weeks before Keen was born. Not wanting to stress Coigney out, he kept the news to himself, according to Men's Journal. The tumor turned out to be benign, but Ruffalo called it " the worst experience of my life. I was so sure I was going to die that I recorded a video for my son so he could know who his dad was," according to Closer Weekly. Then in 2008, Ruffalo's younger brother, Scott Ruffalo, a popular hair stylist in Beverly Hills, was murdered in his apartment.
He coped in part by moving his family from Hollywood to upstate New York, where they already spent the summers. "Sunny and I were looking at each other like, It's good to get to know you again, we're so happy here," he told Men's Journal. So they packed up their L.A. life and settled on their farm for a few years. And it seems like that's how they approach their marriage in general, evaluating their priorities.
When Julia Roberts — yeah, that Julia Roberts — interviewed him for Interview in 2014, he described their life together:
Sunny and my friendship-slash-marriage-slash-love affair is... changing and growing along the way. Honestly, it hasn't been without its difficulties, its shortcomings; it hasn't been without joy or learning or developing.
#Relationshipgoals, folks. #Relationshipgoals.