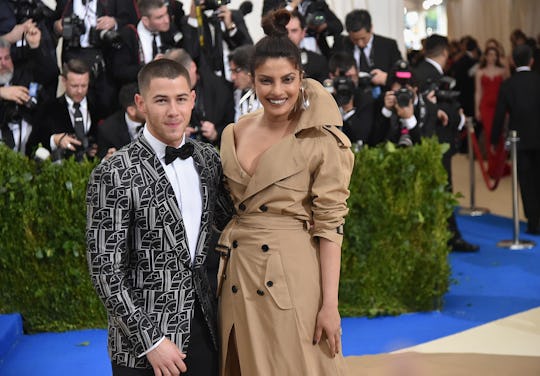 Mike Coppola/Getty Images Entertainment/Getty Images
Here's How Rumored Couple Nick Jonas & Priyanka Chopra Met
In a time when so many revered Hollywood couples keep breaking up (I am still not over Channing Tatum and Jenna Dewan), and some are moving a little too fast (I just want to know the TRUTH about Ariana Grande and Pete Davidson!), it's nice to hear about a seemingly-healthy developing Hollywood relationship. Nick Jonas and Priyanka Chopra's budding romance has been rumored about a lot in the past few weeks, and fans are probably wondering: How Nick Jonas and Priyanka Chopra meet?
Jonas, 25, and Chopra, 35, were first publicly spotted together at the May 2017 Met Gala. However, Chopra shut down rumors of a romance between the pair shortly after in an appearance on Jimmy Kimmel Live. Showing Chopra a photo of her and Jonas, Jimmy Kimmel asked Chopra if the two were dating. "We were both wearing Ralph Lauren, and we decided to go together, and it was fun," she told Kimmel, dismissing the rumors of a relationship. "We were on the same table, we know each other, so we were just like, 'hey, you know what, let's go together.'"
In that quote, Chopra implied that she and Jonas already knew each other before the 2017 Met Gala, but she did not disclose how they first met. A few months later, Jonas opened up about the topic, revealing that they only met shortly before the gala.
In a December 2017 interview with the Indo Asian News Service, Jonas said:
We met through a mutual friend who she did Quantico with, this guy Graham and we met up like in New York the first time and the same day I think we found out that we are both going to the Met Gala with Ralph Lauren. And as strange as it sounds but we couldn't have planned it. We just had a great time. She's a lovely person and I'm dying now to go to India.
About a year after they were spotted together at the 2017 Met Gala, paparazzi spotted them together again making several outings during Memorial Day weekend in late May, further fueling the gossip hounds.
Over the holiday weekend, Jonas and Chopra reportedly caught the Beauty and the Beast live concert at the Hollywood Bowl together, Page Six reported. They were also spotted cuddling up on a boat with a bunch of other celebs, Harper's Bazaar reported. Also over the holiday weekend, fans saw Jonas and Chopra together at a baseball game, GQ India reported. The outlet also noted that the two had been liking and commenting on each other's Instagram posts at that point.
And then on May 29, 2018, an anonymous "source" reportedly told Us Weekly that Chopra and Jonas were officially in a relationship. "They are dating and it's brand new," the source allegedly told Us. "It's a good match and they are both interested in each other." Since that fateful day three weeks ago, the duo has laid low — but on Friday, June 8, Jonas and Chopra were spotted together at JFK Airport in New York, Us Weekly reported. A source (so take this with a grain of salt) allegedly told the magazine:
People are saying it's a great match because they're both so talented and understand the industry ... Priyanka knows how to have fun, but there's also a gravitas to her. The same goes for Nick. He's serious but has a great sense of humor.
However, over the weekend, Jonas attended the MTV Movie & TV Awards by himself, without Chopra in sight, People reported. The awards show, which was filmed on Saturday, will air tonight, Monday, June 18 on MTV, and Jonas is slated to perform. Whether or not Chopra really is dating Jonas, you can bet she'll be cheering him on from afar when the awards show airs tonight.