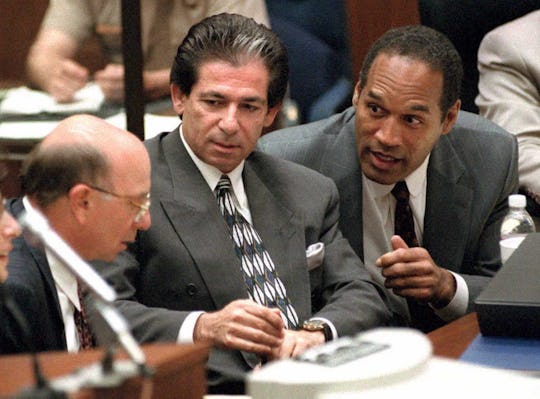 ince Bucci/AFP/Getty Images
How Did Robert Kardashian & OJ Simpson Meet? The Two Men Were Incredibly Close
Even though American Crime Story: The People v. O.J. Simpson will chronicle the case, trial, and eventual acquittal of O.J. Simpson for the murders of Nicole Brown Simpson and Ron Goldman, the 10-episode series will no doubt mention the friendship between Robert Kardashian, Sr. and O.J. Simpson. Which brings me to my next question, how did Kardashian and O.J. Simpson meet, and why was their relationship so important to the trial? Robert Kardashian infamously served as an advisor on Simpson's legal team, telling everyone that he was the "liaison between the attorneys and O.J." Of his role in the trial Kardashian told the LA Times: "I know O.J. better than anyone on the legal team. There are so many things I know about his personality. My job is really strategy and liaison between the lawyers and O.J."
Kardashian and Simpson were so close, in fact, that Simpson was a groomsmen in Robert Kardashian and Kris Jenner's wedding, according to ABCNews.com. The LA Times says that along with a third unnamed investor, Kardashian and Simpson launched Juice Inc. together, which boasted several frozen yogurt shop locations. They also invested in a music video business dubbed Concert Cinema.
Kardashian and Simpson first met in the 1970s, according to the New York Times, and became fast friends. (And it'll be interesting to see how the Kardashians feel about David Schwimmer playing their dad on American Crime Story, the FX original series due out Feb. 2.) The Kardashian patriarch and the former NFL football player were so close that Kardashians kids — Kim, Kourtney, Khloe, and Rob — actually grew up calling Simpson "Uncle O.J." and the late Brown Simpson, "Aunt Nicole." When the case went to trial, it split the family right down the center.
In an interview with Rolling Stone magazine, Kim Kardashian West reflected on being in the courtroom during O.J. Simpson's trial proceedings and see her dad seated beside O.J. while her mom, Kris Jenner, was planted across the room, seated with the Brown family. According to her, the fact that Kris Jenner had "sided" with Brown Simpson's family was a major point of contention for the family at the time. Kardashian West said:
"It was surreal, with Johnnie Cochran and Robert Shapiro and all these guys having meetings at my dad's house. I definitely took my dad's side. We just always thought my dad was the smartest person in the world, and he really believed in his friend."
A year after the trial, Kardashian famously spoke with Barbara Walters and expressed doubts over the way the case was handled. He told Walters: "I have doubts. The blood evidence is the biggest thorn in my side; that causes me the greatest problems. So I struggle with the blood evidence." Walters then pressed Kardashian about the status of their relationship post-trial, to which Kardashian answered: "Our relationship is not the same as it once was nor will it ever be. Because I have doubts."
When asked by ABCNews.com about whether or not Simpson and her late ex-husband were able to rekindle their friendship before Kardashian's passing in 2003 due to esophageal cancer, Kris Jenner said: "O.J. did try and reach out a call him, but Robert didn't take the call."