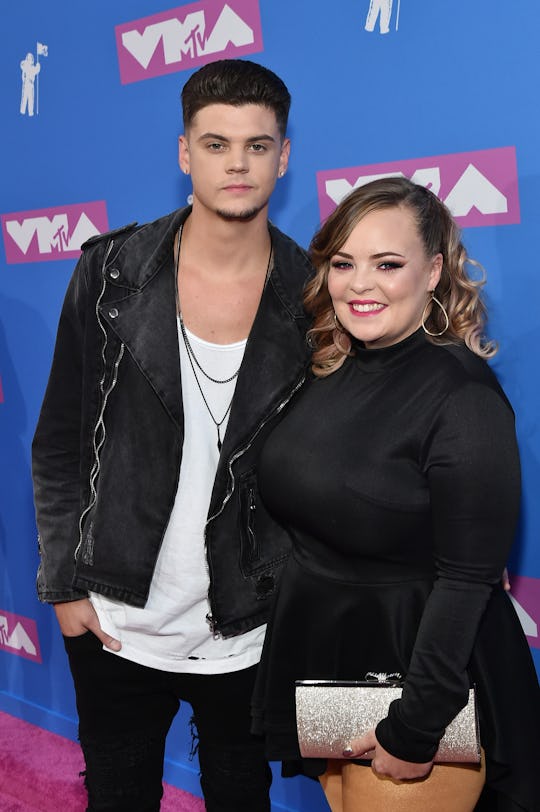 Mike Coppola/Getty Images Entertainment/Getty Images
Here's How 'Teen Mom OG' Stars Catelynn & Tyler's Love Story Began
One of Teen Mom OG's most beloved couples just announced that they're expecting a rainbow baby, months after suffering a miscarriage. Teen Mom OG star Catelynn Lowell and husband Tyler Baltierra have clearly packed a lifetime into their relationship already, but how did Catelynn and Tyler originally meet? As it turns out, this happy couple's love story starts a long, long time ago... all the way back in middle school.
Today, though, the couple announced some exciting news in an interview with Us Weekly. "The big news is that we are expecting our rainbow baby. This baby is our rainbow after the storm. I'm super excited," Lowell, now 26, told Us Weekly. "We were going to wait a really long time," she added to the magazine. "We were using protection and everything and still got pregnant. This baby just wanted to be here. It was very unexpected."
But long before Lowell and Baltierra, also 26, were expecting their newest bundle of joy, they were just 7th grade kids with a crush on each other in Algonac, Michigan, according to Us Weekly.
Catelynn, according to E! News, described her upbringing with mom April as "pretty unpredictable," and had lived in 13 different houses since she was born. Meanwhile, Tyler's dad, Butch, had been in and out of prison. (April and Butch, both single when they met through their kids, as E! News reported, ended up marrying each other and then divorcing, making Catelynn and Tyler, for a time, step-siblings.)
But when the teen sweethearts discovered a couple years later, when Lowell was 16, that she was pregnant, they made a fateful decision that would change everything: They decided to join an MTV start-up program called 16 and Pregnant, according to People.
The rest was TV history, with Lowell and Baltierra becoming popular with fans in a series of subsequent shows including Teen Mom and now Teen Mom OG, for their honesty in struggling with so much responsibility, so soon, as E! News reported. The couple decided to seek an "open adoption" for their baby, Carly — an adoption in which the chosen family knows something about the birth family, and vice versa, as explained by Parents.
Open adoptions, however, can sometimes be difficult since the birth family and the chosen family have to find their own boundaries, as Parents detailed. Carly's adoptive parents later decided they did not want the child to participate on-air on the show or even have Lowell and Baltierra discuss the situation as a plot-line, according to E! News.
Years later, the couple had daughter, Novalee, who is now 3, and then tied the knot in emotional ceremony in August 2015, according to Us Weekly. After Novalee was born, Lowell was diagnosed with post-traumatic stress disorder and postpartum depression, according to People, and then went to rehab last winter to seek treatment for suicidal thoughts, checking in again for more help this past January. Carly also made NovaLee a Valentine's Day card last year, which Lowell displayed on Instagram, so there is hopefully a little contact between the two families these days.
Lowell and Baltierra also had to contend with rumors of a split when Lowell changed her Instagram name from "Catelynn Baltierra" to "Catelynn Lowell" this spring, as Us Weekly noted. The couple also talked about their relationship struggles on The Dr. Oz Show. "Tyler and I are not getting a divorce. Couples go through ups and downs. That's normal life," Lowell told Us Weekly this spring. "We are a solid couple that will work through anything life throws at us."
This couple seems intent on learning the tools to work through any issues life throws at them and live their best lives. This coming season of Teen Mom OG, I really look forward to seeing them doing well as they anticipate their new baby.