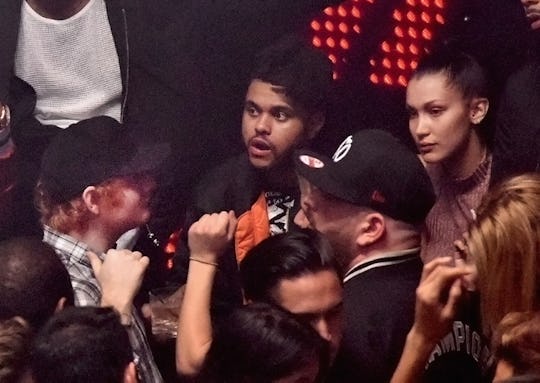 Mike Coppola/Getty
How Did The Weeknd Meet Bella Hadid? It Seems Business & Pleasure Can Mix
He is a Canadian-born R&B singer. She is a California-bred model and potential Olympic hopeful (in equestrian, no less.) So it's no surprise that many people wonder how The Weeknd met Bella Hadid. Yes, it's true that celebrities cross paths often and, occasionally, without realizing it. But when one half of Hollywood's hottest It Couple is a musician and the other is a model it seems a little less likely for a chance encounter. That's why The Weeknd (who, by the way, was born Abęl Makkonen Tesfaye) refused to leave his love life up to fate.
In an October 2015 interview with Rolling Stone, The Weeknd described about how he wooed and eventually wound up with Hadid. And, as he describes, his intentions weren't romantic. At least, not in the beginning. "I actually asked her to be on the artwork for Beauty Behind the Madness," the 25-year-old told the magazine. "My motive was literally to work with her." Hadid turned down the chance to appear on The Weeknd's sophomore album, giving him he opportunity to pursue a romantic relationship. The two eventually had a face-to-face meeting, and that, as they say, was that. "It just kind of fell into my lap," he told Rolling Stone of the almost year-long relationship.
But there has to be more to the story, right? After all, a business encounter rarely leads to love, unless you're living in a rom-com. Prior to becoming a couple, E! reported that The Weeknd and Hadid spent time together at Coachella in 2015. A source told the news outlet that the two were "flirting lots" during the three-day music festival, and hung out several times after that before becoming official.
So will we see the couple walk down the red carpet come Grammy night? That has yet to be determined. Though The Weeknd and Hadid are still together, the couple isn't attached at the hip like other A-list pairs and tend to keep their relationship private (they don't even share snaps of each other on social media.) But if there's any time to have a public date night, it's Grammy night.