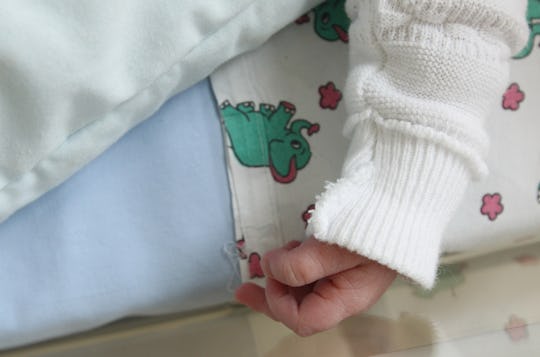 Sean Gallup/Getty Images News/Getty Images
The Facts Behind The Spike In Infant Syphilis
When you hear the word syphilis, what comes to mind? Probably not babies, right? Because when I think of syphilis, I know I think the sexually transmitted disease as something from years ago, something preventable... and something babies don't ever have to worry about. I wish I was right. Unfortunately, the Centers for Disease Control and Prevention has recently noted an alarming rise in babies born with syphilis, and it's a serious cause for concern.
According to a report by the CDC, babies can contract congenital syphilis in the womb if their mother has been infected with the STD and it was left untreated. Syphilis had been virtually wiped out by the year 2000, and congenital syphilis in particular looked to be a thing of the past. Yet in 2015, there, there were as many cases of congenital syphilis in the United States as there had been since 2001. Gail Bolan, director of the CDC's sexually transmitted disease prevention division, told CNN:
There was great hope for syphilis elimination in the United States. Unfortunately, our national data now show that syphilis is thriving.
Why have the numbers behind congenital syphilis, which is preventable, been on the rise in recent years? Bolan and other health professionals have been studying the potential role that poverty, a lack of sexual health education, and reasonable access to health services may have had in the spike in syphilis cases, particularly in women. "Rises in women, especially women of reproductive age ... are a bellwether for when we are going to start seeing more congenital syphilis," Bolan said.
While it is recommended that all pregnant women get tested in their first trimester for syphilis (and potentially more often throughout their pregnancy if there are many cases on the area, or they are at higher risk of contracting syphilis), many women simply don't have access to prenatal care. This could be one of the reasons syphilis continues to be largely untreated, and why there are mothers who not only don't realize they have syphilis, but also that they could pass it along to their unborn child, according to She Knows.
Some health care professionals worry that these women will have even less access once President Trump's administration moves forward with its plan to repeal the Affordable Care Act and defund Planned Parenthood on a national level. Less funding means even less access to women's health care services.
The good news is, syphilis can be treated with antibiotics. If your baby contracts congenital syphilis, they need to be treated immediately with antibiotics and could potentially need to stay in the hospital for an additional 10 days.
If an infant does not receive proper medical care for congenital syphilis, it can be extremely dangerous. The CDC reports approximately 40 percent of all infants with congenital syphilis are stillborn. For those that survive, congenital syphilis can cause:
Deformed bones,
Severe anemia (low blood count),
Enlarged liver and spleen,
Jaundice (yellowing of the skin or eyes),
Brain and nerve problems, like blindness or deafness,
Meningitis, and
Skin rashes
Death shortly after birth
low birth weight
Women who think there could be a possibility that they have contracted syphilis should seek out a health care professional right away.