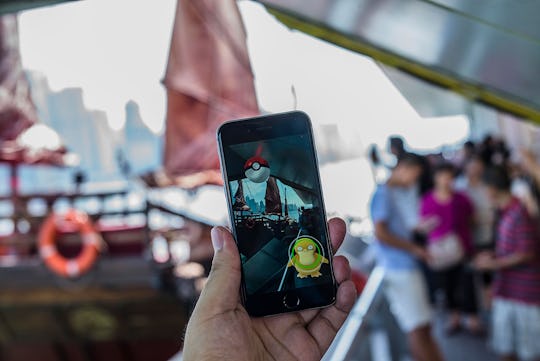 Lam Yik Fei/Getty Images News/Getty Images
How Do I Change My Outfit On 'Pokemon Go'? You Might Be Out Of Luck
If you have fallen head over heels in love with "Pokemon Go," then you are not alone. The augmented reality game has taken the world by storm, and if you haven't seen people on their phones anxiously in search of Pokemon – or if you're not one of those people yourself – then it's likely only a matter of time before you experience the wave that is "Pokemon Go." And there's apparently a lot of important decision-making that comes with being a Pokemon user, like deciding on whether to capture a Zubat, or choosing the perfect outfit for your character's avatar in the game. If you have been faced with such difficult decisions, then you may be wondering: how do I change my outfit on "Pokemon Go?" It's a reasonable question, but you may not like the answer.
Apparently, changing a character's avatar, after it's initially created, isn't exactly an easy task. On the support page for "Pokemon Go," it explained that once an avatar, and team is selected, it cannot be changed:
At this time, it is not possible to change your avatar or your team.
Bummer. (Especially for people like myself that change their minds on outfits about two times a day... every single day.)
And it seems there are many Pokemon users who are unhappy with this stipulation. Some have taken to Reddit to share in their disappointment with the lack of outfit-changing capabilities, while others have expressed their dismay on Twitter. The Elite Daily cited to a number of Pokemon fans who are unhappy with the game's outfit choices:
Until the game creates updates that will allow outfit changes for the indecisive, or ever-evolving Pokemon users, it's important for users to choose their avatar's outfits wisely. The alternative appears to be to create a new "Pokemon Go" account with a new e-mail address – but let's face it, you may have already kicked so much butt that the thought of starting over feels unreasonable. I feel ya.
Regardless of the outfit-changing woes, "Pokemon Go's" influence across the world is still strong. In some cities, the game's boom in popularity has even translated to spikes in restaurant sales. Anne Marie Parks, a brewpub manager in Virginia, told The Washington Post that alcoholic drink sales have gone up since the game's release.
"Since this game kicked in, people are always on their phones — as they're walking in, while they're eating, till the minute they walk out," Parks said. She continued, "July is typically a slow month for us, but this year is different." She also noted that the restaurant recently made a Pokemon-inspired drink menu, according to The Post. "We're selling more beer and liquor, but people are also a lot more preoccupied," she said.
Clearly many find the game to be addicting. So, before you embark on your Pokemon journey, I'd suggest choosing your outfit carefully, the first time. It may be the one outfit in which you throw Pokeballs for a while.