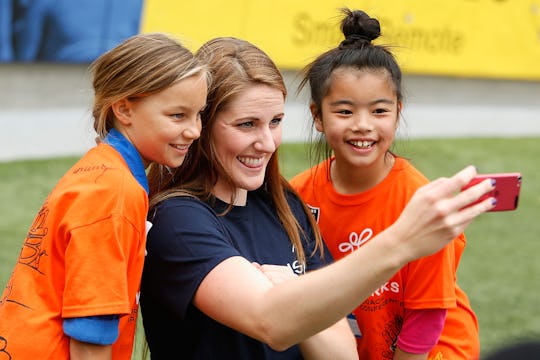 Lachlan Cunningham/Getty Images Sport/Getty Images
How Do Kids Apply to The Olympics Kids Program? It's A Program For Kids Who Won't Give Up
The 2016 Summer Olympics get started with its Opening Ceremony on Friday in Rio de Janeiro, and it's not only the athletes who are sure to be excited. There will be children from all over the world who will be in attendance at the Olympic Games thanks to McDonald's Olympic Kids Program. It's a once-in-a-lifetime opportunity for kids to not only attend the Olympics but also to make friends across the globe. How can kids apply to the Olympics Kids Program? It's a pretty exclusive program, with just 100 kids aged 8 to 12 from 18 countries participating this year.
According to a news release issued by McDonald's;
The McDonald's Olympics Kids Program will celebrate the spirit of friendship which is a key value of the Olympic Games and include kids from around the world who embody the spirit of friendship. McDonald's Olympics Kids will be joined by a gold-medal panel of ambassadors including U.S. Olympic gymnasts Bart Conner and Nadia Comaneci and their 9-year old son, U.S. Olympic swimmer Dara Torres and her 9-year old daughter, and U.S. Olympic soccer player Julie Foudy and her 9-year old daughter and 8-year old son. Also, Olympians and their children from Australia, Brazil and Japan will participate in the program.
While this isn't the first time McDonald's has sent kids to enjoy the Olympic Games (the company has been sending kids since the 2008 Olympics in Beijing), this is the first time it has arranged to send kids to the opening ceremony. All in the name of global friendship.
So how does a kid go about applying for this amazing program? The program is actually a partnership with Ronald McDonald House Charities to benefit children in those houses and programs. According to the statement,
Each country will conduct their own local promotion to select kids to represent their respective country.
In the case of 9-year-old Darius Ziabakhsh, one of the American children who will be traveling to the Rio Games, his time spent at the Ronald McDonald House while battling VACTERL Association (a disease that can result in cardiac complications as well as spinal difficulties) and his indomitable spirit were two factors in being chosen. Ronald McDonald House Charities considered not only Darius' struggles with his illness but also his positivity when choosing him to go to the Olympic Games. He will be joining the other children as an ambassador for the McDonald's brand and its commitment to promoting friendship.
So when you are watching the opening ceremony of the 2016 Olympic Games in Rio on Friday, be sure to watch for Darius and his new friends through the McDonald's Olympic Kids Program. Because many of those kids will have struggled and persevered, and have more than earned an amazing experience.