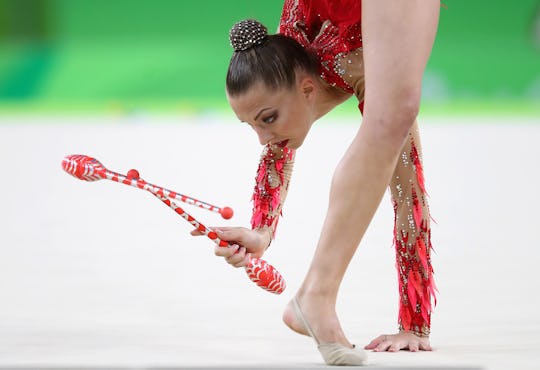 Mark Kolbe/Getty Images Sport/Getty Images
How Do Rhythmic Gymnasts Get So Flexible? It's An Intense, Beautiful Sport
There's a special name in rhythmic gymnastics for when one of the "props" athletes use whacks them square in the forehead: the unicorn bump. And in an Olympic sport in which performers regularly sustain and compete through such serious (and seriously painful) injuries, while they also infuse incredible strength, artistry, and mind-boggling flexibility into their dizzying routines, "unicorn" is perhaps the most apt descriptor of this group of athletes. On the closing day of the 2016 Games in Rio, the Russian team won gold in the group all-around final, displaying the truly rare talent and determination necessary to succeed, and prompting mere mortals to question how the heck rhythmic gymnasts get so flexible.
Simone Biles and the rest of the "Final Five" enthralled Americans last week with their impressive medal haul as they dominated artistic gymnastics in Rio, while their counterparts on the rhythmic side of things didn't break into the limelight (or primetime). But that doesn't diminish the dizzying athleticism required to impress the rhythmic judges, and that certainly includes almost superhuman contortions of the body while gymnasts manipulate one or two piece of apparatus (hoop, ball, ribbon, clubs, and rope) in routines that incorporate elements of dance, gymnastics, and ballet.
The result is that watching rhythmic gymnastics (and its glitzed-up competitors) oftentimes amounts to a dizzying sensory overload. How do their calves all the way over their heads while looking so poised? The simple answer is that these women are tough, and they practice and train all. the. time. Belarusian individual rhythmic gymnast Melita Stanyuta, for example, said in an Olympic video that she trained nine hours a day, five days a week while preparing for Rio, and rhythmic gymnasts are known for practicing their routines just five minutes before competition.
And the fruit of that labor is, in a word, insane to witness. Although the rhythmic gymnastics team representing the United States finished last in the Olympic qualifying round the day before the final, gymnastics from all over the world absolutely kill it in every facet of the sport, and their flexibility is jaw-dropping...
...while their movements also maintain a staggering beauty:
In addition to coordination, strength, and grace, rhythmic gymnasts have a mental toughness and fortitude that allows them to complete their routines while suffering from some injuries that would sideline some athletes for weeks. "One time I got hit in the head by the club and it pushed the pin through my skin, and I started bleeding backstage," U.S. rhythmic gymnast Aliya Protto told NBCOlympics.com. "It was just like covered in blood." Her next move, of course, was to go out and compete.
They're so incredible and dynamic, in fact, that Team USA rhythmic gymnast Nastasya Generalova, as well as three other gymnasts, starred in the video for Taylor Swift's "Shake It Off." Yeah, it wasn't just some "ribbon dancers" who pulled of those amazing stunts that rival the pop star's talent in that video.
Like most sports, it takes a considerable amount of natural talent to reach the elite level of competition in rhythmic gymnastics. And badass women hone their skills and flexibility relentlessly in order to get there, too. Despite the glitter and smiles, there's no messing around in this sport.