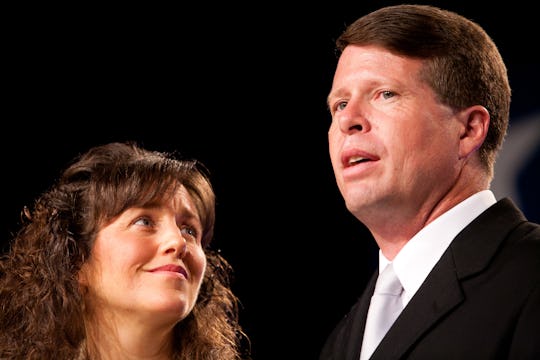 Brendan Hoffman/Getty Images Entertainment/Getty Images
Wondering How The Duggars & Bates Know Each Other? Here's The Story
How many families do you know that have 19 kids? Probably not that many if you're alive in the modern world, I imagine. Unless of course, you happen to know the Duggar family. The famous Duggars of TLC's Counting On have 19 kids in the family. But they're not the only ones. If you've ever heard of the show Bringing Up Bates, you know there's somehow yet another family with 19 children being featured on television. And here's where it gets extra wild; the two families are sort of connected. If you're wondering how the Duggars and Bates know each other, read on, my friend.
It seems the two families have actually known each other for years, and manage to be interconnected in several ways. Much like the Duggars, the Bates family have eschewed contraception in favor of leaving their reproductive choices up to God. Both families are evangelical Christians, although the Duggars are slightly secretive about their actual religious affiliation beyond referring to themselves as devout, as In Touch Weekly noted. The Bates family live in Rocky Top, Tennessee, while the Duggar family lives in Little Rock, Arkansas. And they even share a similar view on things like education; both families homeschool their children.
Jim Bob Duggar explained how he met Gil and Kelly Jo Bates during a 2012 episode of United Bates of America:
Back about 15 years ago, I went to a conference, and I walked in and I saw this family with, like, seven or eight kids sitting around a table. And I said "This kinda looks like my family." That was Gil and Kelly Bates. And we've been friends ever since. It's been a really special relationship.
Such great friends, in fact, that when Erin Bates was getting married in 2013, the Duggars surprised the Bates family by cleaning their house for them as a thank you for being invited to the wedding.
A relationship that has continued through their children, it seems. They have been present at each other's weddings, like when Michaela Bates married Brandon Keilan in Knoxville, Tennessee in 2015. Joy-Anna, Jill, Jana, and Michelle were all on hand for the wedding, according to People. There have also been rumors over the years of Bates kids courting Duggars and vice versa. William 'Lawson' Bates was rumored to be courting both Jinger and Jana Duggar at different points over the past few years, but neither rumor came to fruition. Jana Duggar remains single, and Jinger is married to Jeremy Vuolo and expecting her first child this summer in Laredo, Texas.
While the Bates and Duggars have an eerily similar style when it comes to parenting (they both subscribe to the idea of courting, and don't allow their children to hold hands or kiss before marriage), the Bates tend to be a little more relaxed about a few of their rules. The Bates are less strict about dress code, and as Kelly Bates wrote in a 2013 blog post, they try to be realistic about courtship rules as well:
We don't think there is a mold that everyone has to fit in (i.e. do it this way, in this amount of time). It doesn't make sense to tell couples they should have to rush and get married in three months either. The couple misses so much that way.
The Bates family also believes in sending their kids to college after graduation, something the Duggar don't typically do.
When you think about it, it's nothing short of a miracle that two families with similar values, reality television series, and 19 kids each managed to find each other. Although with that many kids, they would probably be hard to miss.