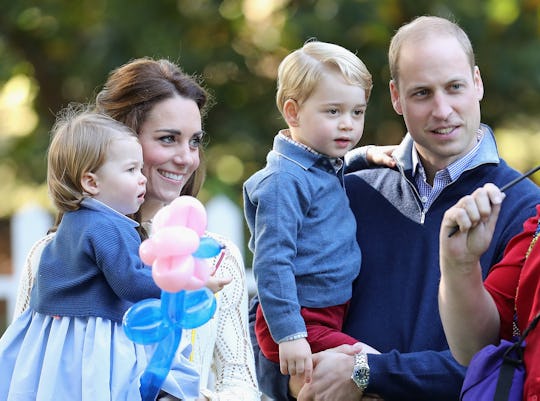 Chris Jackson/Getty Images Entertainment/Getty Images
How The Royal Family Celebrates Their Birthdays Might Surprise You
If you've checked the news at any point in the last few weeks, you know that the royal family goes hard when it comes to weddings. But how do they treat smaller family milestones — for instance, birthdays? With two prominent royal family members' birthdays just around the corner, fans might be wondering how the royals celebrate birthdays and how it compares to your own parties with cake and balloons.
Interestingly, royal family members tend to keep their birthdays pretty private, taking the day off from formal engagements, as Hello! Magazine reported. That being said, the level of birthday hoopla in addition to said private gatherings does vary among the members of the royal family.
Queen Elizabeth II was born on April 21, 1926, according to The Telegraph. You may recall her birthday festivities in April, when she turned 92. The queen typically marks the occasion with a small family gathering, and there are also three midday gun salutes, according to the official royal family's website. There's always a 41-gun salute in Hyde Park, a 21-gun salute in Windsor Great Park, and a 62-gun salute at the Tower of London, the site notes.
However, the celebrations do not stop there. The queen actually has... drumroll please... two birthdays. Man, why can't I have two birthdays? I promise I'd throw really fun parties!
The queen's second birthday — known as her "official" birthday — changes every year, but it typically falls on the second Saturday in June, according to the royal website. This year, it falls on June 9 with festivities starting at 9 a.m. local time, as TIME reported.
OK, so why does the Queen get a second birthday? As it turns out, King George II started the tradition of the monarch of the United Kingdom getting a second birthday began way back in 1748, according to Mental Floss. King George II's birthday was in November, which, as you may know, is a rather cold month in England. To increase the chance of good weather for his birthday celebration, King George II chose to publicly merge his birthday celebration with Trooping the Colour, thus beginning the tradition of a second birthday in June, as Mental Floss reported. (It's kind of like how Washington's Birthday is celebrated on the third Monday in February even though George Washington's birthday was actually Feb. 22.)
Trooping the Colour is a huge parade through the streets of London. More than 1,400 soldiers, 200 horses, and 400 musicians participate to show off their "military precision, horsemanship and fanfare," according to the royal website. During the parade, the queen and other royal family members often ride through the parade in horse drawn carriages, waving to fans, much like how Prince Harry and Meghan Markle, Duke and Duchess of Sussex did after their wedding ceremony. Back in the day, the queen used to ride a horse during Trooping the Colour, according to the royal website. But considering she is now 92, it's totally fair that she simply chills in a carriage.
Another royal celebrating a birthday in the near future is Prince George, who will turn 5 on July 22. The Duke and Duchess of Cambridge, Prince William and Kate Middleton, tend to keep things laid-back for their kids' birthdays, simply throwing an intimate party for family and friends. Prince George reportedly had a dinosaur-themed 4th birthday party last year, as New Idea reported. And Princess Charlotte reportedly had a low-key celebration for her 2nd birthday, according to Hello! Magazine.
In addition to throwing their kids small birthday parties, Prince William and Middleton also often honor their children's birthdays by releasing official photos via the Kensington Palace social media accounts.
Just a few days after the royal wedding, on May 22, Charles, Prince of Wales celebrated his 70th birthday — six months early. Prince Charles was actually born on Nov. 14, 1948. But because 70 is such a big birthday, and, more importantly, because he is next in line to the throne, several events are being held in his honor over the course of this year, as People reported.
Prince William, who is second in line to the throne, gets to celebrate his birthday a little more casually than his father and grandmother. In 2016, Prince William went to see a soccer match in Saint Etienne, France, just before turning 34, as People reported. He flew home on the morning of his birthday, and then spent the day "privately," a royal source told People at the time.
Prince Harry's ever-lowering rank on the line of succession also allows him to celebrate his birthday on his own terms. For his 32nd birthday in 2016, for instance, he hosted a shooting party at Balmoral Castle in Scotland, which the royal family owns, as Hello! Magazine reported.
Basically, the royals can celebrate their birthdays however they'd like — and that's usually in private, with close family and friends. That is, unless they are the Sovereign or next in line to the throne. Prince William and Prince George had better enjoy their quiet birthday celebrations while they still can!