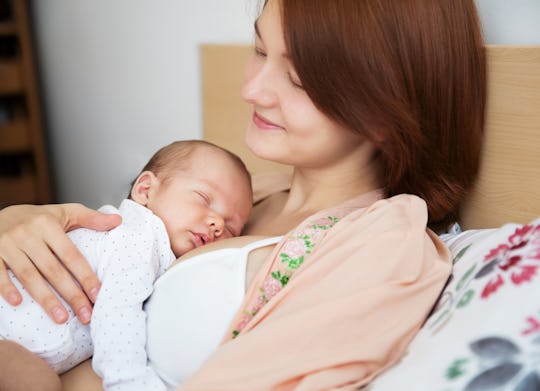 nataliaderiabina/Fotolia
5 Ways To Do Modified Co-Sleeping That You Should Try Tonight
Co-sleeping is a personal choice for families, and it has gray areas just like any other aspect of parenting. One family's version of co-sleeping may not mirror another's and it's often called modified co-sleeping when you take different aspects of the lifestyle and make it fit for your family. So how do you do modified co-sleeping? Does it require some DIY work or is sliding your child's crib into a corner of your room enough?
It's all about how you want to tackled modified co-sleeping. Dr. Craig Canapari, director of the Yale Pediatric Sleep Center, wrote on his website that co-sleeping basically means sleeping with your child. Whether that means bed-sharing, where a child snuggles right there with you in your own bed, or room-sharing, where your child has their own separate bed or crib in the same room as you is your choice. That's what constitutes as modified co-sleeping — you modify sleeping with your child to fit you and your family's needs.
Still not sure how to do it? Determine what you and your baby need. Canapari insisted on his website that there are a few guidelines to follow when determining if co-sleeping works for you — it's all about good enough sleep. Are you sleeping well? Is your child sleeping well? Are either of you disturbed at night? Is everyone wake up well-rested in the morning? Is there enough space? Then co-sleeping sounds like it works. But if you notice that sharing the bed with your child in a traditional co-sleeping environment doesn't yield positive results, then look into modified co-sleeping. These five ways to do modified co-sleeping can help ensure that everyone gets good enough sleep for the night while still having a co-sleeping relationship.