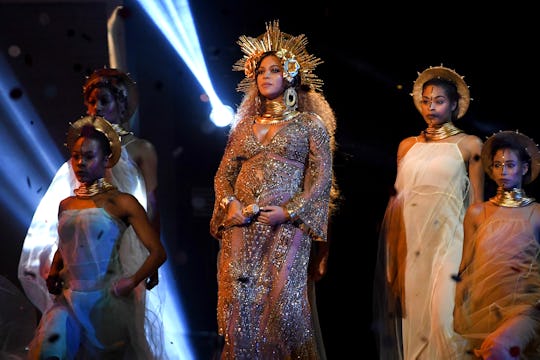 Kevork Djansezian/Getty Images Entertainment/Getty Images
How Do You Pronounce Rumi? It's Easy
Of course, Beyoncé and JAY-Z would name their children two very unique names, and of course, people can not stop talking about them. On Friday, TMZ reported Beyoncé and JAY-Z filed trademark documents on the names Rumi Carter and Sir Carter. Rumi is definitely a name many people have not heard of, and by now, people have probably begun to wonder how do you pronounce Rumi?
The name of Beyoncé's son (or daughter), Sir is more common. Sir is something you probably say every once in a while, if not every day. But many people might not have heard the name Rumi — or know of the 807-year-old Persian mystic, Jalaluddin Rumi, who is the most popular poet in the United States, according to the BBC. But we're about to hear the name Rumi so much more now, thanks to Beyoncé. If you're talking to your Beyoncé obsessed friend about her new babies, then you'll definitely want to know how to pronounce the name, if only to sound super cool in front of them.
Thanks to the poet Rumi's popularity in the United States, there are instructional videos for pronouncing the name Rumi. And luckily, pronouncing the one-syllable name is as easy as it looks.
Rumi is pronounced roo-me. Or for those who have ever lived in a college dorm, Rumi is pronounced just like the nickname you had for your freshman roommate, "roomie."
If Beyoncé did in fact name her child after the poet, she isn't the first celebrity to be inspired by him. Singer Chris Martin of the band Coldplay said a collection of poetry by Rumi changed his life after his divorce. According to The New Yorker, Madonna and Tilda Swinton are also said to be huge fans of Rumi.
And while Rumi might be a popular poet, the name isn't necessarily popular for a child. In the past year, according to Baby Center, Rumi has only increased in popularity, with 33 babies per million with the name Rumi as opposed to 15 babies per million in 2016. Despite this, the name still isn't that popular in the United States — according to Social Security, the name Rumi for both a boy and a girl hasn't hit the top 1,000 names for any birth year beginning with 2000.
But thanks to Beyoncé naming her child Rumi, we're going to be hearing that name a lot more, everywhere — with more people eventually naming their children Rumi. Luckily, you'll know exactly how to pronounce it.