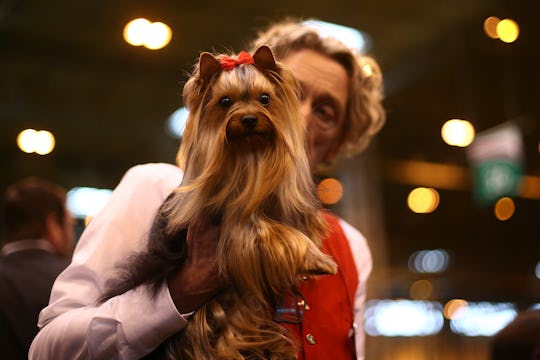 Carl Court/Getty Images News/Getty Images
Here's How To Stream The National Dog Show, In Case Football Isn't Your Thing
It may sound odd to some, but there are millions of people for whom Thanksgiving means a turkey meal, sure, maybe, but watching pooches on parade, definitely. The National Dog Show is a Thanksgiving Day tradition that's gone on for 16 years now — this year is the 17th — but how do you stream The National Dog Show if you're away from the TV on Thanksgiving.
Luckily, the event will be featured on the NBC Sports App, where it can be live-streamed after the Macy's Thanksgiving Day parade. (I know folks who don't like to go anywhere for Thanksgiving and have a family feast on the couch in PJ's, watching the tube. Now I can see why, there's a lot on.) NBC Sports Network will also air the competition, if you're not near a TV in the middle of the day on Thanksgiving, but have some downtime to watch later on.
If you're not familiar with the dog show, it's sponsored annually by the Kennel Club of Philadelphia and filmed right in the City of Brotherly Love. NBC edits down about 18 hours of footage from the pre-taped event to squeeze into a nice two-hour TV event. Sounds perfect!
The event will again be hosted by TV actor and Broadway star John O'Hurley (of Seinfeld fame), alongside American Kennel Club judge David Frei, who has appeared at this event with O'Hurley since 2002, according to TV Insider. (The duo has also taken on Beverly Hills' Dog Show in the spring, TV Insider added in another article.)
The website detailed that NBC sportscaster Mary Carillo will chime in from Philadelphia, reporting from inside the show ring. Former Olympic figure skaters Tara Lipinski and Johnny Weir will also be on hand to offer behind-the-scenes commentary (after stealing the show at the 2014 and 2018 Winter Olympics).
One of last year's most memorable competitors was Newton the Brussels Griffon, handled by Susan DePew and owned by Keith Jacobson, who won the "best of" his breed and a trophy even heavier than he is, according to InStyle. The diminutive doggo was also named "best in show," the coveted top award.
Brussels Griffons, best known for their funky, bearded snouts, are great dogs to train as they are said to learn tricks effortlessly. Newton was determined to be the best of his breed, meaning that such factors as his bone structure and temperament were weighed against other pooches looking just like him, the magazine added.
According to Frei, the show has fast become a tradition because people like to pick a team (or pooch, in this case) and root for it. "People love to root for their own [type of] dog," Frei told the New York Post in 2013, adding that he personally favors Brittany and Cavalier King Charles Spaniels, both types of dogs that he has owned. "[People] tune in to see if their breed wins."
The 17th annual National Dog Show Presented by Purina airs Thursday, Nov. 22 at 12 p.m. on NBC and streams on the NBC Sports App.