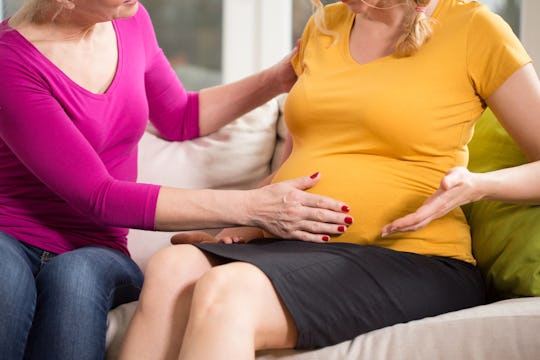 Photographee.eu/Fotolia
Here's How Your Doula Can Be A Huge Help During Your Pregnancy
"What's a doula?" My partner asked. At the time, I was on light bed rest, my nose buried in books on childbirth. I explained that doulas are birth helpers who make C-sections and episiotomies (two of my major fears) less likely. My partner took great care of me, but late in pregnancy, I found myself wishing I'd hired a doula — and not only for the birth. But how does a doula help throughout your pregnancy? For me, I wanted to ask if I really needed this bed rest, and if my level of anxiety was normal. Can adding a doula to your birth team help you stay healthy before the big day?
Megan Davison, PhD, of BrooklynDoula, describes a doula in an interview with Romper as a non-medical professional whose role is to reduce fear and build confidence. They seek to "increase knowledge and informed decision-making, and offer practical support . . . during labor and birth." It's a flexible role with a strong emphasis on empowering you, the pregnant or birthing woman. Doulas keep you from getting swallowed up by the medical system and a doula can even reduce your C-section risk, according to the American Pregnancy Association, and many offer guidance throughout all three trimesters.
"I work with many of my clients from early in their first trimester, through the entire pregnancy, the labor and birth, and often we stay in touch for questions or concerns throughout the entire first year of life, and sometimes beyond," explains Davidson.
Doulas aren't medically trained, so they can't provide medical advice, but there's still a lot they can do to support your pregnancy — including helping you understand the advice your doctor gives you.
Bailey Gaddis, C.Ht, HBCE, of Your Serene Life, tells Romper that she offers two prenatal appointments lasting one-to-two hours. During this time, she helps new moms write their birth plans, and discusses any concerns they may have about labor. She helps moms prepare the house for baby, provides hypnotherapy (one of her specialties), and acts as a "sounding board" when moms have issues with their medical care provider. One of Gaddis's major goals is to reduce anxiety, which is important, because chronic stress can negatively impact your pregnancy. She explains:
"When my client has less stress, it's easier for her to make good nutrition and exercise choices, she's more in-tune with her body, and she's better equipped to handle the surges of hormones and emotions that are common on the journey into motherhood."
Gaddis worked with one mother who suffered from such severe anxiety during pregnancy, her doctor wanted to put her on medication. Instead, Gaddis and her client spent time discussing her triggers and how to avoid them. She also taught her EFT, or the emotional freedom technique, an anxiety-reducing method sometimes known as tapping, and created a custom relaxation recording to address her client's deepest fears.
"I would also have her call me whenever she felt the anxiety coming on and I would talk her out of it," says Gaddis. Despite having a 98-hour labor (yes, you read that right), her client describes her birth experience as overwhelmingly positive, and attributes this to the unflagging support of her doula and midwife.
Basically, a doula can be like a best friend — if your best friend knew everything there was to know about having babies. (Yeah, I know she says she does, but she probably doesn't.) Because of the intimacy of the service provided, Davidson recommends choosing a doula you really connect with on a personal level. After an interview, she advises women to ask, "Do you like this doula? Do you trust them? Do you feel supported by them?"
A doula's work isn't confined to the birthing room. A good one is invested in preparing you for labor, and that means having conversations months in advance. Especially if you're having a difficult or anxiety-ridden pregnancy, a doula may be just the knowledgeable, caring support person you need. Find a Doula, from Childbirth International, can help you locate a professional in your area.
Check out Romper's new video series, Romper's Doula Diaries: