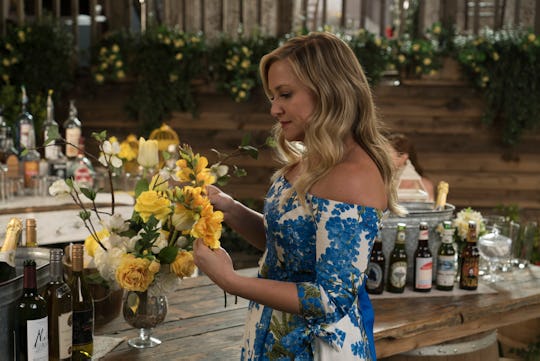 John Fleenor/ABC
Arizona's 'Grey's Anatomy' Exit Will Be Heartbreaking, Regardless Of How It Happens
This past March, it was announced that Jessica Capshaw was one of two series regular cast members leaving Grey's Anatomy at the end of Season 14. (The other is Sarah Drew, who plays Dr. April Kepner.) With 10 seasons of the show under her belt, Capshaw's character Dr. Arizona Robbins lent vital visibility to the queer community, and later to the disabled community when she required a limb amputation back in Season 9. She's an iconic character to the show, so fans may be wondering: how does Arizona leave Grey's Anatomy? Thanks to executive producer and star Ellen Pompeo, we know a grisly end is off the table.
"You only get killed off when your behavior is bad. If you're a nice actor, you die nice," Pompeo said of this season's two departing actors in an interview with Entertainment Tonight, assuring fans that neither of these characters will be killed off (and raising a bunch of questions about what went on behind the scenes with Eric Dane and Chyler Leigh when their respective characters were killed off). So April and Arizona fans can rest easy knowing they won't meet an untimely death, which would leave both of their young children in mourning. But what options does that leave for Arizona?
Fans already know that her official reason for leaving Grey-Sloane Memorial is her daughter Sofia. The first grader has been struggling with bi-coastal joint custody, bounding between her mom Callie in New York and Arizona in Seattle. Specifically, Sofia seems to love everything about her life in New York: her school, her friends, her routine, and the city itself. Meanwhile, she's been miserable in Seattle, suffering anxiety, frequently feeling too sick to go to school, and requiring a lot of extra love and care from her mom Arizona, which, as the Head of Fetal Surgery at a world class hospital, has been challenging for her to provide. Arizona tries her best, but when Sofia eventually steals an envelope containing $1,200 in field trip money from her classroom so she can buy a plane ticket to New York, Arizona finally realizes the gravity of the situation.
It's not clear if she's planning a reconciliation with Callie, although Arizona did accidentally say her ex-wife's name instead of her current partner's in a bit of a Freudian slip while she was waiting for some weed cookies to wear off. And she has been experiencing tension with Carina DeLuca, her girlfriend, over her apparent reluctance to dive into a deeper relationship, especially one including Sofia.
What we do know is that, in the penultimate episode of Season 14, Arizona's former mentor Dr. Nicole Herman returned to pitch Dr. Robbins an idea: The Robbins-Herman Center for Women's Health. Herman's vision includes using money from an HHS grant she's received to open up a women's health center where she can teach fetal surgery and Arizona can perform it. She also plans to use the center and grant money to launch Arizona's maternal mortality prevention cart into nationwide use. When Dr. Robbins timidly asked if they could do it in New York, Herman agreed, and she happily accepted.
So it would appear that Robbins' exit will involve moving to New York to set up this new health center with Dr. Herman and continue her initiative to reduce maternal mortality rates in the United States. Plus, Sofia will be back in a healthy environment with both of her moms close by. The only question that remains is Arizona's romantic future.
Will she get back together with Callie, make it work with Carina, or take a break from romance altogether to focus on her exciting new job opportunity? Grab all the tissues and tune into the Season 14 finale on Thursday, May 17 to find out.