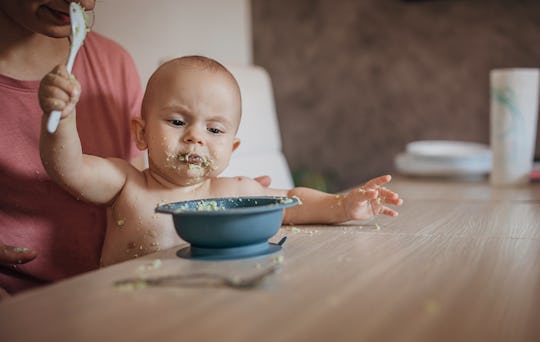 South_agency/E+/Getty Images
This Is The Grossest Thing About Feeding Your Baby Solids For The First Time
Introducing your baby to solids for the first time is huge. Suddenly your newborn starts looking and acting like a real little person, you get to see their personalities develop as they adamantly express their likes and dislikes, and, for breastfeeding mamas, you finally get a little break from being on constant nursing duty. But for all the good that comes with introducing food, there is the gross. For the faint of heart, be forewarned, this is going to get real. Want to know what the grossest thing about feeding your baby solids for the first time is? I've got one word for you: Poo.
While you may think you're prepared for this new poo experience (breast milk and formula poops don't smell that great either, right?), it's actually pretty different. "Breast fed stool often looks like soupy dijon mustard," pediatrician Dyan Hes, M.D., tells Romper in an email, to the point where "parents often worry that this is diarrhea." Once babies start solids, though, "the appearance of the stool will change because the baby is now eating a whole different variety of macronutrients," she adds. Breastmilk and formula are both packed full of nutrients too, but they're of a more simple variety and don't take as much work for the body to break down. Plus, since babies are getting the same thing for every meal, there's little variation in the stool.
Once your baby starts solids, they're suddenly taking in "fructose (a carbohydrate/sugar) in the fruits and vegetables, fiber in both fruits and vegetables, proteins in the meats, beans, eggs, fish, and nut butters... [and] different amounts of fat in all of these foods," Dr. Hes says. This new menu is bound to result in all kinds of diaper-content experiences, but there do tend to be some common poo themes out there.