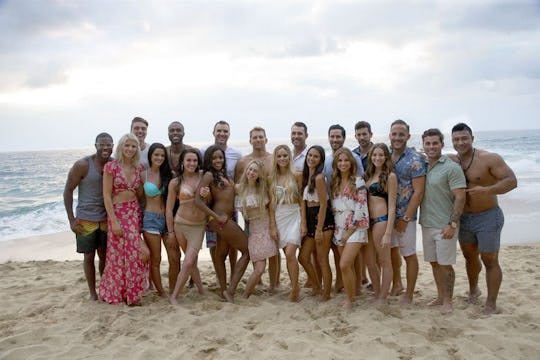 Paul Hebert/ABC
Here's How The 'Bachelor: Winter Games' Is Going To Work
There isn't a Bachelor fan who hasn't thought at least once that there needs to be something like Bachelor in Paradise to enjoy during the winter too. Personally, all the emotion I invest in each season of The Bachelor and The Bachelorette is all in the name of getting to enjoy Bachelor in Paradise to its fullest extent. So now that Bachelor: Winter Games is officially a thing, fans can enjoy some of the same excitement, but how does Bachelor: Winter Games work exactly?
Fans can expect to see some of the classic drama, villainy, and even love that the Bachelor franchise is known for, but there's also a lot more to it. However, don't expect it to be as cut and dry as the actual Olympics either. According to creator Mike Fleiss, the Bachelor: Winter Games will take place in Vermont and as ABC reality chief Rob Mills told The Hollywood Reporter, the new series will feature favorites and favorite adversaries from past seasons in both the U.S. and beyond. That's right — Bachelor: Winter Games will include past contestants from Bachelor Australia, Bachelor Canada, Bachelor Japan, and Bachelor U.K., according to Chris Harrison.
The competition itself, set in Vermont, is no doubt going to be full of winter sports, but don't be too put off by the Road Rules type of vibe you may be getting.
While there will be physical competitions on Bachelor: Winter Games, there will also still be the emotional competition of love, and isn't that the main reason fans cling to the Bachelor franchise? "At the end of the day, it's going to be about finding love again," Mills told The Hollywood Reporter. "It will have some of the Bachelor Pad DNA, in that there is going to be a competition element."
Fans might remember that the short-lived spin-off The Bachelor Pad was a competition series that involved the male and female contestants from Bachelor Nation constantly going up against the opposite sex in a series of mild competitions, including pie eating, water balloon toss, and ballroom dancing for the grand prize of $250,000 at the end of it all. There were still dates and roses, though, so if Bachelor: Winter Games is going to have some of those same elements, then fans can probably expect for love matches to be made amidst the competition.
In addition to some past Bachelor Nation contestants from almost all of the franchise's formats, there will of course be one other familiar face to help fans understand the newest game show. Chris Harrison, host and shoulder to cry on, will also be returning to be the host of Bachelor: Winter Games, so even if you only recognize a few of the contestants, he'll be there to help move things along.
While it's unclear right now who will be embarking on these winter sports and what the grand prize will be — since roses and an engagement ring just aren't going to cut it — it's fun to think of which Bachelor Nation stars could be a part of it all. Harrison, however, has at least one (or, two) former contestants in mind no matter what. "The twins have to be there. I love the twins," he admitted to The Hollywood Reporter. "They're like, 'This might be the last time you see us!' and I'm like, 'Never. I'll always have you in my life.'"
Twins Haley and Emily Ferguson, initially featured on Season 20 of The Bachelor, returned to the franchise for Season 3 and 4 of Bachelor in Paradise and while their time on Season 4 ended with the twins swearing at the cast and production, I don't think it's the last we've seen of them. Harrison also mentioned Ryan Sutter, the winner of The Bachelorette Season 1 and Trista Sutter's husband, but there isn't an official cast for Bachelor: Winter Games yet.
There are still some details that have yet to be released about the newest Bachelor franchise series, but so far it basically seems like a more competition-based and colder version of Bachelor in Paradise and that's kind of amazing.
Watch Romper's new video series, Romper's Doula Diaries:
Check out the entire Romper's Doula Diaries series and other videos on Facebook and the Bustle app across Apple TV, Roku, and Amazon Fire TV.