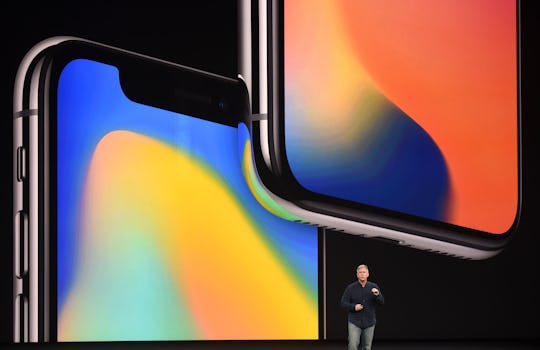 JOSH EDELSON/AFP/Getty Images
How Apple's New Face ID Feature Works On The Latest iPhone
At Apple's highly-anticipated unveiling event on Tuesday, software developers announced an amazing new feature to the latest iPhone, which is called Face ID. The new high-tech sensors will essentially recognize the phone user's face as a way to unlock the device, rather than using fingerprints as current iPhones are capable of. But, how does Face ID actually work?
The new unlocking method does exactly what you think: you look at your new iPhone and voila, your phone is unlocked. But there's, of course, a lot of tech that goes into it. As The Verge reported, "It's based on the tech in the notch at the top of the phone: it combines an IR system with the front camera and a so-called flood illuminator that beams a light at your face to help it be recognized even in the dark."
And no matter how you look at your new phone — from the side, wearing glasses, or with a new hair style — the feature will be able to recognize your face by using "dedicated neural engine... based on a dual-core custom chip design," according to The Verge.
But, there is one thing that must stay constant: as the company stated, you must look toward the phone with your eyes open for security purposes.
Here's how Apple described it:
With Face ID, iPhone X unlocks only when you're looking at it. It's designed to resist spoofing by photos or masks. Your facial map is encrypted and protected by the Secure Enclave. And authentication happens instantly on the device, not in the cloud.
Face ID will also reportedly work with Apple Pay and all third-party apps that already supported Touch ID, as The Verge reported.
But, all the tech stuff aside, how does it work for you, the user? Well for starters, you must have the iPhone X, as it will not work with the iPhone 8 or iPhone 8 Plus, or any of the older iPhones either.
As Gizmodo reported, Face ID will use a "new selfie camera setup" that comes with the iPhone X, called the "TrueDepth camera system." This new camera uses a set of sensors and cameras to create a detailed 3-D outline of your face, according to Gizmodo. So, essentially you are taking a selfie to unlock your phone.
As with any new tech feature, people are skeptical about how well it'll actually work in real-time. But Apple insists that there is "a 1 in 1,000,000 chance of a random other person being able to look at your phone and unlock it through Face ID," according to The Verge.
Still, people aren't totally convinced this latest invention will perform as well as Apple is insisting it can. In fact, people quickly took to Twitter to air their concerns with the new features.
What warranted these concerns? Well, Apple ran into a bit of a hiccup while presenting the Face ID feature and wasn't able to unlock the iPhone during the demonstration.
But, as The Verge reported, the malfunction wasn't Face ID's fault. Rather, the onstage demo with Apple's software chief Craig Federighi was unsuccessful because the phone he was using for the example had not been set up yet, which is why the passcode screen popped up. But, when he picked up a different iPhone X, according to The Verge, and Face ID worked just fine.
So, once you've set up your new iPhone X — complete with a passcode — the new feature should work with no issues. But, to truly know how well Face ID works, buyers in the market for an iPhone X will have to wait until about November to get a much better idea of how user-friendly Face ID is.
Check out Romper's new video series, Romper's Doula Diaries: